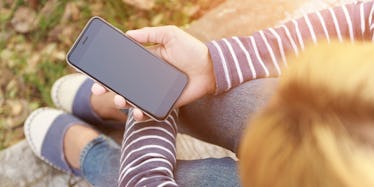 New iPhone 8 Leak Shows Front And Back Panels That Confirm Rumored Screen
Shutterstock/ blackzheep
A Reddit user with a friend "in the industry" just leaked photos of panels that supposedly belong to Apple's iPhone 8.
At this point, any leaked photo or shared information about the highly-anticipated iPhone 8 is huge news to us, because we're still trying to piece together what the device might look like.
So far, multiple rumors relating to the iPhone's screen have hit the web, and we've concluded a few possible designs. For starters, the edge-to-edge screen is expected to be made of OLED panels, and it's supposedly a lot bigger than before.
Plus, the iPhone's home button is expected to be replaced with a function area, so that's fun.
Thanks to the leaked photos shared by Reddit user kamikasky, we're finally able to see what the structure of upcoming iPhone 8 might look like -- and if these are real, the rumors must be true.
One of the leaked photos shows a supposed front and back panel of an iPhone 8, and the design coincides with the rumors quite nicely.
By the looks of it, the panel is edge-to-edge and does not show structure that would allow a home button. The back panel also reflects rumors of a vertically aligned dual camera system.
Underneath the photo, the Reddit user wrote, "I have a friend in the industry who just sent me these. He said the Chinese manufacturers got these last week."
Well, they look pretty damn legitimate... right?
Still, the designs did not come from Apple so we can't assume these are the correct panels that will build the iPhone 8.
Another shared by kamikasky shows the iPhone 8 panels alongside iPhone 7 panels. According to the user, iPhone 7 owners will be able to use wireless charging in the future.
As an iPhone 7 user, I'm pretty stoked about this news -- but still, nothing has been confirmed.
In the meantime, let's keep our eyes our for more iPhone 8 leads and dream about what the magical device is going to look like when it's released in September.