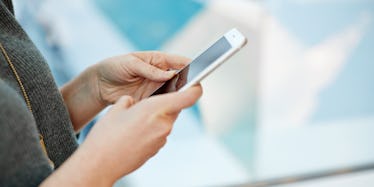 New iPhone 8 Accessory Might Confirm Screen Size Rumors We've Been Questioning
Mint Images/ Getty Images
An iPhone's accessories are almost as important as the iPhone itself, and in this case, they might confirm everything we've been wondering about the highly anticipated Apple product.
If you're in the market for a new phone, you're obviously going to want to invest in some sort of protection for the sensitive object in the event of falls, spills, and so on.
Recently, MobileFun — an accessory maker who has previously nailed phone predictions three months in advance — released a new screen protector for the upcoming iPhone 8, it revealed quite a bit.
The Olixar iPhone 8 Full Cover Tempered Glass Screen Protector has a "massive 5.8-inch elongated display," according to Forbes, with a top bezel cut-out. Take a gander at the product for yourself, which is on sale for less than $30.
Let's take an even closer look, shall we?
So far, the screen protector matches up with most of the iPhone 8 predictions, including the biggest one: the function area. This will be similar to the MacBook Pro's Touch Bar, and it was a detail missing from previous leaks, Forbes reports.
Do you know what this means? The accessories say it all.
In the future, long after you've used and gotten sick of your iPhone 8 and when the 9 is underway, make sure you take a look at the forthcoming accessories if you're curious about the device's layout.
Accessory makers like MobileFun receive advanced warnings about the new products so that third party accessories are available in time for the phone's release... so you can spend even more money than you had originally intended.
As excited as I am about the new layout of the iPhone 8, perhaps what's even more anticipated (at least in my book) is the fact that the phones might be waterproof. There have been one too many scares for me where I've had my phone next to a water bottle or a cup of coffee that just got a little too close for comfort.
So what are you thinking, folks? Are you ready for the iPhone 8 — and the Olixar iPhone 8 Full Cover Tempered Glass Screen?
I sure am.