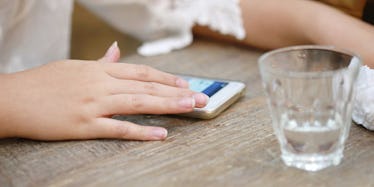 Apple Supplier Says iPhone 8 Will Be Waterproof, So Clumsy People Rejoice
Catherine MacBride
The amount of times I've dropped my phone into the toilet is super embarrassing, so I'm thrilled to know Apple's upcoming iPhone 8 reportedly will be waterproof.
The glorious news comes from an Apple supplier from Wistron, a Taiwanese manufacturing company that was reportedly added to Apple's list of suppliers in India, according to The Telegraph.
A report by Nikkei Asian Review claims the upcoming iPhone will have a waterproofing function as well as wireless charging (which we're already super excited about).
Robert Hwang, CEO of Wistron, allegedly told reporters about the exciting news at the company's shareholder meeting on Wednesday, and we're definitely stoked.
Hwang allegedly said,
Assembly process for the previous generations of [iPhones] have not changed much, though new features like waterproof and wireless charging now require some different testing, and waterproof function will alter the assembly process a bit.
If this leak is true, clumsy people (like me) will never have to soak their iPhones in a bowl of rice to dry up all the water ever again.
Halle-freakin'-lujah.
Of course, there were already rumors about the iPhone 8 being waterproof, but Hwang's statement is getting us excited the chatter might be true -- and in a world full of iPhone rumors, we're craving the truth.
However, Apple isn't the only company releasing waterproof phones. In fact, Samsung's already ahead of the game with the Samsung Galaxy S7 and S8. But if you're a true Apple lover, you'll have to wait for the iPhone 8 and it's advanced waterproof functionality.
If you have an iPhone 7, you might be getting a small taste of the waterproof feature. It's been reported the current iPhone is water resistant, but can only be submerged in one meter of water for up to 30 minutes before damage occurs.
I guess we'll have to wait and see how waterproof the iPhone 8 actually is when it's released. Either way, I'm excited to worry less about dropping it in the toilet again.