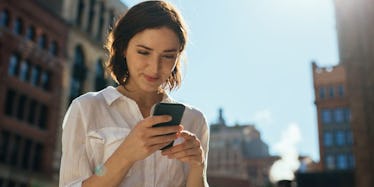 iPhone 8 Might Mute Notifications If You're Staring At The Screen, So That's Nice
Good Vibrations Images
Hey, here's another iPhone 8 rumor: Apparently, your new Apple device will be able to scan your face. According to a development from the trusty HomePod firmware leak, the iPhone 8 might mute notifications using a face sensor. Guilherme Rambo, a Brazilian iOS developer, tweeted the potential new feature after spotting it inside the leaked HomePod code. On Tuesday, Aug. 8, he captioned a series of screenshots,
What @jsnell talked about on the last @_upgradefm is true: the iPhone will suppress notification sounds if you're looking at it.
To the non-developer eye, long lines of blue, green, and red letters look like gibberish. However, per Guilherme's trained eye, the letters prove that the iPhone 8 — when it's eventually announced and released, that is — will apparently be getting to know its owners' faces quite well.
The good news is, you might not even need to use the fingerprint scanner (wherever it winds up moving on the next-gen model), because the face sensor will be able to identify you if you're staring at the screen and act accordingly. Another snippet of code suggests it might even be able to do so lying flat, so things are looking pretty advance technology-wise for Apple's rumored new phone.
Maybe that's how the tech company plans to justify its potentially lofty, more-than-a-Macbook-Air price?
In a recent report, Apple released its high projected fourth quarter earnings, hinting that something big is coming from the company before the end of the year. Whether its the HomePod or the highly-anticipated phone, we don't know.
All we have are iPhone 8 rumors.
The home screen button is probably gone forever. The iPhone 8 will probably only come in three colors (black, silver, and gold). The large edge-to-edge display will probably look super cool. And, you know, it will all probably be released in September, hopefully.
Nonetheless, a face sensor really puts the "smart" in smartphone, if you ask me.