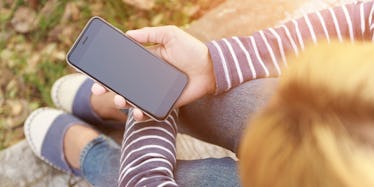 The New iPhone 8 Might Cost More Than A MacBook Air, So Start Saving
Shutterstock/ blackzheep
Though techies were pleased to discover that the iPhone 8's features and design are not quite so mysterious anymore, they definitely aren't going to be so excited when they see the price tag.
Apple's iPhone 8 cost could rival that of a laptop, so take a few deep breaths before parting ways with an older model.
According to 9to5Mac, today's report from J.P. Morgan believes that the phone will debut at a higher selling price and expects the cost to linger somewhere between $1,000 to $1,100.
"Production costs are slightly higher than we had originally anticipated," the report reads, according to 9to5Mac.
Others are starting to uncover similar findings and are comparing these predicted prices to the cost of older models.
According to Ashraf Eassa of The Motley Fool, to not have the phone's prices start in the $1,000 range would be a "poor strategic move on Apple's part," given the cost of the iPhone 7 models. He delves into technical terms to uncover why three-digit prices aren't as likely, and it's definitely a bit of a bummer.
Well, this is a big anniversary. Given that this is the 10-year celebration of the iPhone's release, we would certainly expect Apple to do big things, right?
The J.P. Morgan report further claims that these predicted prices are a "critical demand control variable for a new tier of iPhone," according to 9to5Mac.
Before you get completely bummed about the new device, let's remember all the things we have to look forward to with the new iOS updates, like the new emojis. 
In case you haven't been completely consumed by the fact that we're destined to get T-Rex emojis, you'll be pleased to know that Apple is also spreading diversity by including icons of a woman in a headscarf, a woman breastfeeding, and a hipster-looking fella with a pretty fabulous beard.
Don't fret: There's plenty to enjoy with these emojis coming this fall... even if you're still using your iPhone 7.