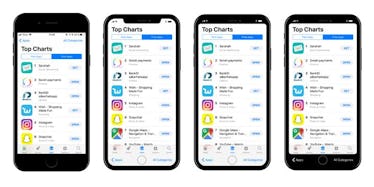 Here's What The iPhone 8 Edge-To-Edge Screen Might Look Like When It's Turned On
Max Rudberg
Though Apple still has yet to confirm anything design-wise for the iPhone 8, the rumored edge-to-edge screen is highly-anticipated -- and judging by various dummy models, it's likely to become a reality. If, like me, you're wondering how that's going to translate to iOS 11's aesthetic, tech blogger Max Rudberg has done us all a favor and created mockups of what we might be able to expect with the bigger screen sans home button. Brace yourself, and keep reading to see what the iPhone 8 will potentially look like turned on come (maybe) September.
In his blog post revealing the designs, Rudberg said he was able to create them following Apple's HomePod firmware leak when tech blogger Steven Throughthon-Smith shared a piece of the code, confirming a bigger iPhone (known as D22 in the code) screen.
In his blog, Rudberg wrote,
iOS 11's large navbars seems like the biggest hint of upcoming change, and moving the left and right navbar items next to the home button allows for a much more convenient bottom oriented navigation. And everything just seems to fit.
Using a similar method to fellow tech blogger Allen Pike, he "wanted to explore how this could look with a little more graphical polish, to try and figure out which way Apple would be most likely to go."
What It Will Look Like With The Notch
What It Will Look Like Without The Notch
What It Will Look Like Without The Notch And With A Blended Bottom Bar
What It All Looks Like, Side-By-Side
If this is anything like what we can expect IRL, I'd say it's going to be hard to pass up an upgrade to the iPhone 8 — even if it costs more than a Macbook Air.
On Tuesday, Aug. 1, Apple released a report with high projected fourth quarter earnings, leading everyone to believe that something big is coming from the tech company. They could very well be anticipating lots of HomePod sales, but I'm hoping we'll be able to get our hands on the new iPhone before the end of the year (i.e. September).