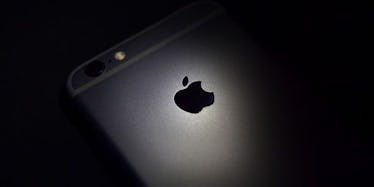 Apple Finally Hinted At Upcoming iPhone In New Report, Here's What We Know
Carl Court/ Getty Images
People have been waiting ever so patiently for news about Apple's iPhone 8. Rumors have been swirling for months about its design, release date, and price, but no one takes claims too seriously unless they come from the directly from the head honcho itself. In Apple's third quarter reports released on Aug. 1, anxious techies came closer to iPhone 8 confirmation than ever before.
It was a successful quarter, even though everyone thought the arrival of the iPhone 8 would slow things down. During this period, 41 billion iPhones were sold and analysts' expectations were topped thanks to the company's quarterly revenue of $45.4 billion. So basically, Apple's got it made in the shade.
But everyone was really tuning into the fourth quarter predictions, which will be somewhere between $49 billion and $52 billion, according to Apple's report. This is a strong suggestion that the iPhone 8 will release in September as originally expected, though the report didn't specifically confirm the phone's release date.
But there are definitely other clues that people are sinking their teeth into.
"We hosted an incredibly successful Worldwide Developers Conference in June, and we're very excited about the advances in iOS, macOS, watchOS and tvOS coming this fall," Tim Cook, Apple's CEO, said in a press release.
This fall, huh?! Well, well, well, you don't say, Mr. Cook.
Previous reports suggested the release date was going to be pushed back later in the year, possibly around November or December. Potential reasons for this delay include the phone's design, as everyone's anticipating an upgrade from the LCD screen to the OLED display.
However, it seems like Apple's got it all under control, judging from its record-high reports. As great as these findings have been, no techie will deny that he or she will not be completely satisfied until it's all laid out in layman's terms: the release date, price, and features.
C'mon, Apple! You're getting closer!