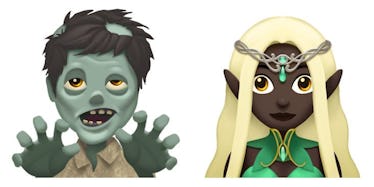 Apple's New Emojis Will Make Texting So Much Better, Here's How To Get Them
Earlier this week, Apple announced they'd be releasing a series of new emojis later this fall, and you're probably wondering how to get them.
The announcement came on World Emoji Day (July 17), and the internet freaked out. Even though no official date has been given for the emojis' release, the news was very well received.
The new emojis will include some funny ones like the zebra and the zombie (which is perfect for when you're watching The Walking Dead). Another new option includes the gross puking emoji, which is best suited for when something nauseates you... or when you're very hungover.
Inclusive emojis like the woman wearing a hijab and the woman breastfeeding are also included in the new bunch.
However, it seems like the Twitterverse is most excited about the upcoming T-Rex and Mind Blown emojis.
How do I get these emojis?
Well, you're probably going to have to wait for the iOS update this fall. The new iOS emojis will be available in a few months on all iOS devices including the iOS, macOS, and watchOS, according to Apple.
So what do you do if you need to get your hands on some new emojis right now? The Verge reports that versions of the emojis already exist on Android O Beta, but they won't look as good as they would on iOS.
Bummer, but it's worth a shot if you can't wait until fall 2017. I'm not going to lie, I might give this a shot so I can use the mind blown emoji.
What other emojis will I see?
You can expect to see 56 new emojis including the crazy face, face with a monocle, sandwich, elf, mermaid, genie, and vampire... just to name a few.
I can't wait to see how people use the sandwich emoji. I'm personally excited about the mermaid, because in my head, I am a mermaid. Now, I'll finally have an emoji to identify with.
While we wait for fall to roll around, I guess I'll be on Twitter reading about tweets from people as excited for the new emojis as I am.