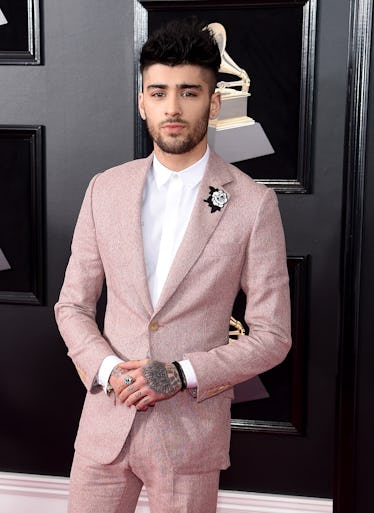 Zayn Malik Literally Shaved & Tattooed His Head & My Head Hurts Just Thinking About It
Jamie McCarthy/Getty Images Entertainment/Getty Images
I'm not one to shy away from tattoos. In fact, I have a budding sleeve already, and I pride myself on taking the pain of the needles like a champ. However, when it comes to head tattoos, I'm all for people doing whatever floats their boat and expressing themselves in ways they love, but just thinking about the pain of a tattoo in that spot literally terrifies me. That being said, Zayn Malik is clearly a much braver soul than I will ever be. ICYMI, Zayn Malik shaved and tattooed his head recently. And no, I'm most certainly not making that up.
We all knew Zayn definitely loved his tats. Seriously, the "Dusk Till Dawn" singer has stunning ink all over his body, including a tat potentially featuring Gigi Hadid's eyes on his chest and a Perrie Edwards lookalike tattooed on his arm (which he's since covered up). Still, this new ink is bold, even for him. On Monday, April 23, Zayn took to social media to debut his latest ink in a trippy Instagram post. The post featured a still photo of Malik with a moving, kaleidoscope animation on his hoodie. In the photo, you can see Zayn's head tattoo, which looks like a repeating pattern, starting at the top of his neck and extending over the bottom and the sides of his head, atop his ears.
As you can see, Zayn didn't include a caption on the photo, securing my own title for him as one of the most mysterious men alive. However, perhaps even more mysterious is that Gigi Hadid liked the Instagram post, despite the couple's split which Malik confirmed on March 13.
Before we all get too carried away about this head tattoo, I'll throw down the disclaimer now that there's a possibility the tat is fake. While Zayn is no stranger to very real, very permanent tattoos, the former One Direction member is also familiar with fake tats. According to Bustle, back in 2016, Zayn debuted a tattoo on the side of his head, which featured the text "M. O. M." It was later confirmed that the tattoo was, in fact, fake, when Gigi Hadid posted a Snapchat of Zayn, and the tattoo had mysteriously disappeared.
Though the jury's still out on whether or not Zayn's latest ink is real, it wouldn't be the first time he opted for a pretty drastic change following his breakup with model Gigi Hadid. About a week after the breakup was confirmed, Zayn was pictured with a pretty blinding new 'do: a platinum blonde dye job, beard and mustache included. Of course, there's no telling what the actual reason for the change was — after all, he was pictured on the new hair set of a video shoot. But haven't we all been through the "I just broke up and now I need a change to reinvent myself" stage? No? Just me? OK.
As we wait for Zayn himself to confirm whether or not he had the courage to sit through what must have been a painful head tattoo, let's refresh our memory as to the sheer amount of tattoos he already has, shall we? Though it's hard to count the ones we may not be able to see, Bustle reports that Zayn has over 60 tattoos in total. My personal favorite? THE ENTIRE FREAKING HARRY POTTER SCENE ZAYN HAS INKED ON HIS LEG FOREVER AND EVER. I'm sure a lot of people thought they were the number one Harry Potter fan, but Zayn Malik just snatched all of their dreams faster than snatchers caught Harry, Ron, and Hermione in Deathly Hallows Part One.
Who knows what changes Zayn will make next when it comes to his ~lewk~. All I know is, my eyes will be glued to his social media to see if this head tat mysteriously disappears like the last one.