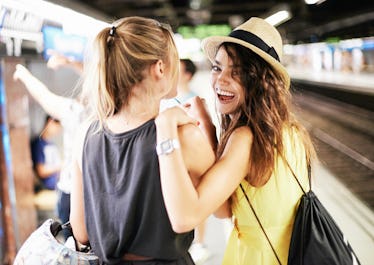 3 Red Flags Your Hot Spring Break Fling Shouldn't Last When You're Back On Campus
Spring break essentials: sunglasses, bathing suits, headphones, and... a spring break fling? Yup! That's not just a thing that happens in the movies or in romance novels. A spring break fling might be a lot shorter than your summer romance but it can be just as much fun.
Most colleges have spring breaks that coincide with each other, which means that the chances of you meeting some hottie at a bar in the beach town you're visiting for a week are pretty high. There's more people your age around, booze is cheap and seemingly endless, and real clothes are optional. You do the math.
After spending a few carefree days with the person you swear is your kindred spirit, you might be wondering how to turn your fling into a serious relationship — but wait! Don't create that Pinterest wedding board just yet. There are questions you should ask yourself before agreeing to be official with your hookup and they go beyond, "What's your favorite song by The Chainsmokers right now?" I'm not saying you can't connect with someone over EDM and cheap beer. I'm just saying it might not be a lifelong connection.
I spoke with Nicole Richardson, a licensed professional counselor specializing in relationship problems, about how to tell if your spring break fling is the real deal or if you should leave it at the beach when you go back to college. According to her, there are three obvious signs your fling is ready to be flung out of your life for good.