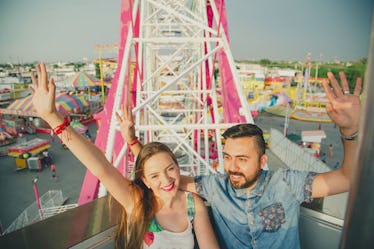 Why Your Guy Cousin Is Like A Brother & The Best Friend You'll Ever Have
Oh, boys. You might have a lot of them in your life. There's your younger brother who is always the center of attention, and your cousins who make every holiday party so much better. Sometimes, they really get on your nerves. (Like when they don't take your relationship advice, or eat all of the Oreos. Come on!) But, you're grateful to be surrounded by such amazing human beings. They look out for you, and are more than just any other family member. Let's be honest: Your guy cousin is like a brother to you, and you wouldn't want it any other way.
Just when you thought you had enough siblings, your cousin came around. He walked through the door, with his bike sitting in your driveway, and asked if you had any sidewalk chalk. At the time, drawing pictures on the cement was your favorite thing. So, you said the five-year-old's version of, "Hell yeah!" and ran outside. You weren't expecting to have such a cool best friend. Now it's years later, and he's still your main squeeze.
You go on all sorts of adventures together, and talk about the things you're passionate about. He messes with you whenever he gets the chance, and you prank him right back. It's all meant in good fun, and you're excited to see what else is in store. These seven things make your guy cousin more like a brother to you. He's basically your immediate family. Would you want it any other way?