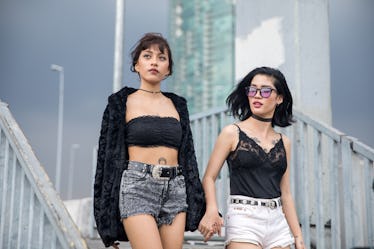 Why Your Relationship With Your Cousin Is More Legit Than A Best Friend
Jovo Jovanovic
Your bestie has some serious competition when it comes to your cousin. Yes, both of them have likely been around since day one. But, there's just something about a family member who turned into your BFF that takes friendship to an entirely new level. This is the girl who maybe hasn't always been around because she actually lives in a different state, but is your soul sister just the same. Let's be honest: Your cousin is more legit than a best friend. It's a bold statement — I know — but one you probably already can agree on for a few reasons.
Unlike your best friend, you can't quite remember the day you and your cousin met. Odds are, you were both just kids, running around in the sprinklers in your backyard or making s'mores over the grill that your dad set up. Naturally, you bonded and became two peas in a pod almost instantly. (I mean, when marshmallows and chocolate are involved, how could you not?)
Maybe you went to the same summer camp together for a few years, or just kept in touch with phone calls and little day trips to each other's hometowns. You two rocked the long-distance relationship, and have always just picked up wherever you left off. Nowadays, not much has changed. You're both a lot more grown up, but you and your cousin are still super close. In fact, she's probably your most legit best friend, purely for these seven reasons.