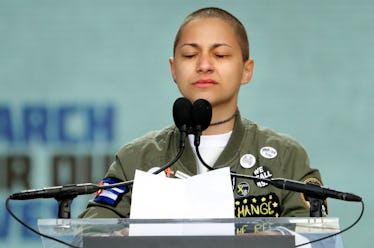 The Parkland Shooting Prompted A Poignant Trend Among Young People That You Might Be A Part Of
Chip Somodevilla/Getty Images News/Getty Images
In the aftermath of the Parkland shooting that occurred on Feb. 14 and resulted in the deaths of 17 students and faculty members, student survivors have undeniably been making history. Through their strides, there have been national debates about gun control, dozens of marches planned throughout the country in support of reformed gun legislation, and now, young people have been registering to vote in huge numbers in efforts to see a change that's so desperately needed.
On May 21, The New York Times reported that the increase in voter registrations of young people in crucial states could even help influence the outcome of the upcoming midterm elections. During the aforementioned marches, many young adults promised to get out and vote for candidates who were dedicated to gun control, and if they follow through with their commitments, their vote could reportedly affect close races in major states like Arizona and Florida, where there will be close races for governor, the Senate and a number of House districts in November, according to the Times.
The outlet added that voter records for March and April show that the number of young registrants was higher portion of new voters in states like Florida, North Carolina, and Pennsylvania than it had been. In Florida, between January and February, voters under the age of 26 increased from less than 20 percent of new registrants to almost 30 percent by March, which is the same month dozens of gun control marches swept the country. That percentage did decrease to around 25 percent in April, when the rallies subsided. However, the publication notes that it was still higher than the numbers previously set before the Parkland tragedy.
With another tragic school shooting occurring just days ago, on May 18, at Santa Fe High School in Texas, many of the survivors are likely to hit the polls to let their voices be heard, as well. The day of the shooting, March For Our Lives — a demonstration that was organized by survivors of the Parkland shooting — urged Santa Fe students to get involved in the gun reform movement via Twitter. Part of the message read,
Though this is the 22nd school shooting this year, we urge those reading this not to sweep it under the rug and forget. This is not the price of our freedom. This is the most fatal shooting since the one at our school and tragedies like this will continue to happen unless action is taken.
Christine Matthews, a Republican pollster, thinks the latest tragedy will result in dramatic effects at the polls. "The shooting at Parkland high school was the tipping point for these kids. The bravery and activism of the Parkland kids ignited their peers across the country, and these newly minted 18-year-old voters are already motivated," she told the Times. "The school shooting in Texas surely adds to their resolve but, honestly, they didn't need any more motivation."
There are even underage kids who can't wait until they become of legal age so they can hit the polls. On April 12, one of March For Our Lives' founding members, David Hogg, finally turned 18 and shared his enthusiasm to become an active voter on Twitter. He tweeted, "Now that I'm 18 I can vote. Will you?"
Yes, David. I will.
Clearly, the change that the Parkland kids have ignited isn't going away any time soon, and I'm so here for it. What's most commendable, though, is how much they've all been able to accomplish in such short time, and it honestly makes me excited to see where they go and what happens next. I'll be watching closely.