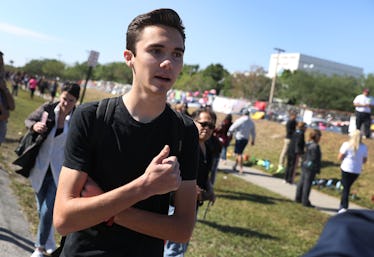 Parkland's David Hogg Just Turned 18 & He's Part Of A Huge Wave Of Voters
Joe Raedle/Getty Images News/Getty Images
David Hogg, along with many of the other Parkland shooting survivors, has had an unprecedented three months. In the time since the Feb. 14 shooting at Marjory Stoneman Douglas High School, Hogg has been the subject of a smear campaign alleging that he is a crisis actor, he's delivered a bold speech at the March For Our Lives, and he's been mocked publicly by TV personality Laura Ingraham. And on April 12, Parkland's David Hogg turned 18 and he's part of a huge wave of new millennial voters.
Hogg celebrated his 18th birthday at midnight on April 12, and immediately announced his plans to become an active voter. "Now that I'm 18 I can vote," Hogg tweeted. "Will you?"
The thousands of replies were filled with many young people eager to announced that they recently just turned 18 — or that they would be ahead of November's midterm elections. There were also, not surprisingly, a great deal of birthday- and well-wishes from his classmates at Marjory Stoneman Douglas High School — the site of the Valentine's Day mass shooting that claimed 17 lives and injured 17 more
"HAPPY BIRTHDAY @DAVIDHOGG111 !!," Emma González tweeted at her friend. "U can finally buy a Shamwow without your parents permission :'-) they grow up so fast."
Hogg's birthday is representative of a major change as millennials now outnumber baby boomers in the U.S. electorate.
2018 will likely be remembered as a historic year for this reason alone. The transition, reported by CNN, will end the reign that the baby boomers have held since 1978 (at which time they surpassed "The Greatest Generation," who were raised during the Great Depression.) Hogg is arguably on the cusp of being a millennial and being a post-millennial, or a member of iGen — depending on who you ask.
According to the States of Change project at the Center for American Progress, a liberal advocacy group, as reported by CNN, this transition would likely benefit Democrats — the party which younger voters tend toward. But the shift in the largest voting demographic could also be mitigated if millennials continue to vote at much lower rates than their elders — especially in midterm elections. Presumably, that is why Hogg is pushing his peers so much to get out and vote.
"Millennials are the largest and most diverse generation and this year we will be the largest voting block," tweeted Rock the Vote, a nonprofit focused on getting younger voters to register, on Feb. 2.
The tricky thing to predict is what, if anything, this larger pool of young, eligible voters will translate to at the voting booth. This larger pool of millennial voters could vote in droves or not at all, and could tend left or right. Several factors influence who shows up at the polls, reported Politifact, including the candidates' appeal, the fruition of campaign efforts, and state laws that could restrict access to the polls, including bans on student IDs.
Hogg seemed to indicate on Twitter that he wasn't calling for new 18-year-olds to only vote Democrat. He replied to one user who wrote to him, "I'll be cancelling out your vote!" by saying that he just wants young people to become "politically active."
If you want to see the potential impact of a millennial voter block, you may want to look to south. Democrats are reportedly messing with Texas.
Kristen Soltis Anderson, a GOP pollster and author of The Selfie Vote, told The Atlantic in March 2017 that although Trump seems incompatible with young voters, the evidence of that remains to be seen.
"There are a lot of things about the Millennial generation that I still believe are completely at odds with Trumpism," she told The Atlantic. "But that's not to say that if Trump is succeeding as president some of those minds couldn't be changed."
As for the 2018 midterms, what this rise in younger voters will result in remains even more elusive. One area of focus, however, based on the makeup of the U.S., is Texas voters, per NPR. The Democrats outnumbered GOP early voting turnout this year in Texas, as well as their own numbers from the same period in 2016, according to NPR. They also more than doubled their turnout from the last midterm election in 2014.
"Texas is the nation's bellwether right now," Tariq Thowfeek, the communications director for the Texas Democratic Party, told NPR in March. "It's a good gauge of the incredible progressive energy we have across the country in a state that is ranked at the bottom of the barrel in voter turnout."
When it comes to voter turnout, as we all learned in 2016, there's only one way to find out.