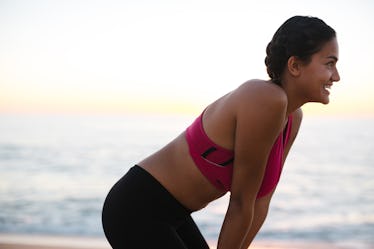 Working Out For Your Blood Type Is A Real Thing & Here's What That Actually Means
Correct me if I'm wrong, but your blood type is probably one of those things you don't think about very often — that is, unless you're sitting in a doctor's office, right? But this minor detail plays a major role in your everyday life; after all, blood makes up about 7 percent of your whole body. So while you were a youngin' learning all about the ABCs, you also should have been learning a thing or two about the ABOs. Not only does your blood type have a hand in your internal health, working out for your blood type may work to your advantage physically, as well.
Even though Grace Derocha, a registered dietitian, certified diabetes educator, and certified health coach at Blue Cross Blue Shield of Michigan, tells Elite Daily there's insufficient evidence to support eating for your blood type as the end-all-be-all of nourishing your body, expert opinions are still debating the overall benefits. According to registered dietician and integrative nutrition consultant, Dina Khader, the idea that the foods you eat and the way you exercise are both linked to your blood type, isn't totally farfetched, at least from her perspective. In 2013, she told Fox News,
Each blood type is your own genetic blueprint. As a result, the foods you eat, the exercise you do would all have to be different. It makes perfect sense.
Of course, this is just one person's opinion, and there are many others out there who will tell you the opposite. The best way to find out if working out based on your blood type is right for you, is to try it.
So, how do you do that? Well, it just so happens that the mastermind behind the blood type diet, naturopathic physician, blood groups expert, and author of Eat Right For Your Type, Dr. Peter D'Adamo, has also weighed in on what exercises might work best for your blood type, as well. Whether or not these workouts are going to be ideal for you, personally, is ultimately up to your individual body. For now, check them out and see if they feel right for you.