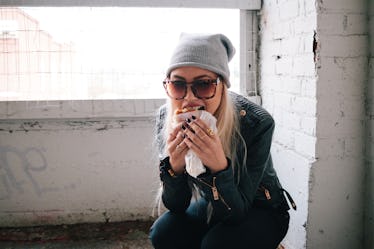 The "Blood Type Diet" Is A Real Thing & Here's What You Need To Know About It
Do you know what your blood type is? It's a random question, I know, but I'm willing to bet you know some of these little details about yourself, like what time of day you were born, and how much you weighed, so what about your blood type? Even though every body is unique, there are only so many blood types you can have, and what's interesting about ABOs (the name for the blood type system) is not only can they tell you so much about your health, they can also play a role in how your body reacts to certain foods. Eating for your blood type is definitely a strange concept, but some people do it, and as far as I'm concerned, diet doesn't get more body-specific than that.
I know myself, and I rarely think about the blood running through my veins, unless it randomly comes up in conversation, or I clumsily slice my finger chopping veggies or dicing avocado (this happens more often than I'd like to admit). And even when the red stuff is right in front of my face, I look at it more as an inconvenience or a symbol of pain than I do as a vital part of my body. However, in 1996, Dr. Peter D'Adamo, a naturopathic physician recognized as an expert in blood groups, made blood a buzzword in the health and wellness realm when his book, Eat Right for Your Type, became a New York Times bestseller, showcasing ABOs as the unique "biochemical makeup" that can determine everything from what diseases you might be susceptible to, to how your body reacts to certain foods.
As popular as the blood type diet has become over the years (according to Medical Daily, D'Adamo's book has sold more than 7 million copies since its publication), there's not a whole lot of evidence to support the claim that you should eat based on your blood type. In an exclusive interview with Elite Daily, Grace Derocha, a registered dietitian, certified diabetes educator, and certified health coach at Blue Cross Blue Shield of Michigan, tells me this is because each regimen inherently eliminates certain key food groups. Plus, as far as long-term results of these diets go, she tells Elite Daily, "results are unavailable."
"Though some of the general practices of this diet involve reduced intake of calories, simple carbs, and sugars," Derocha explains, "a more realistic way to improve your overall health is to consume a diverse diet, including lean proteins, whole grains, vegetables, fruits and heart-healthy fats, and reduced amounts of refined carbs, added sugars, and excess sodium."
Though potential benefits of eating for your blood type have been discussed, such as increased energy levels, reduced risk for disease, and keeping your gut bacteria happy and healthy, there's just not enough concrete proof to determine whether or not this way of dieting is really worth the effort. Still, some people are adamant about eating for their blood type, and if you're curious, here's what you should know.