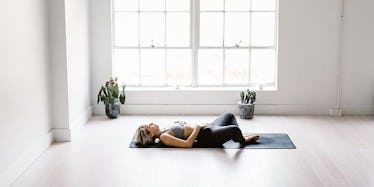 12 Songs For Your Yoga Flow Playlist That'll Help You Relax From Head To Toe
When you go to your favorite yoga class, and the teacher puts on a killer playlist to complement the flow, it's basically the most amazing feeling ever. Linking your movement and breath in sync to the carefully chosen music, truly makes the class a moving meditation. So, when you're flowing solo at home, picking the absolute best songs for your yoga flow will make your time on your mat equally as blissful as those times at your fav studio. As a yoga teacher, picking out the music for each of my personal flows or classes is one of my favorite things to do. If I know I'm feeling more of a intense and physical Vinyasa practice, the songs will mirror that vibe -- but for a more restorative and calming session, I'll choose more soothing, ambient tunes.
According to Johns Hopkins Medicine, there aren't many things that stimulate the brain the way music does. Plus, pairing your favorite melodies with mindful movement decreases anxiety and pain, while increasing focus and boosting your mood. So next time you're craving some quality time on your mat, here's a playlist that will make your entire body feel luxuriously energized and your mind totally blissed out.