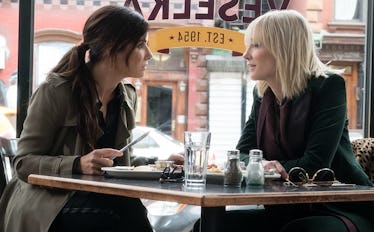 Here Are The Chances That Fans Will Get An 'Ocean's 8' Sequel
Warner Bros.
After weeks of superhero movies, fans will finally be treated to a much-needed break at the box office courtesy of Sandra Bullock. On June 6, Ocean's 8, the all-female (and all-bad*ss) continuation of the Ocean's trilogy, hits theaters, and the Bullock-led film is set to make a serious splash. A movie starring the former Miss Congeniality, Mindy Kaling, Rihanna, and more A-list talent is bound to make money, so even though the film hasn't premiered yet, there's one important question ringing through Hollywood: Will there be an Ocean's 8 sequel? I haven't even seen Ocean's 8, but I already know that two hours with these women simply won't be enough.
Warner Bros. hasn't officially said anything about an Ocean's 8 sequel, but I'd say there's a pretty good chance fans will be seeing Debbie Ocean (Bullock) and her gang of hustlers again. According to Variety, the movie is expected to make between $33 million and $38 million in its opening weekend, which is on par with the original Ocean's films starring George Clooney. If Clooney and his rag-tag group of misfits can get not one, but two sequels, I'm willing to bet that Warner Bros. will jump at the chance to get Bullock, Cate Blanchett, Sarah Paulson, and Anne Hathaway back together again (yeah, this cast is awesome).
In an interview with Entertainment Weekly, Bullock addressed the possibility of a sequel — a potential Ocean's 9 — and said that if it happens, it would have to go above and beyond the first film:
I don't know. I think the mindset was let's just see if we can make this work, and let's see if we can get the greatest actors and we did ... Things have changed as people realize we need to step up our game, have something as good if not better. If something strikes a chord, an Ocean's 9 would be ideal.
Do you hear that, people? If you love Ocean's 8, don't be shy about letting Bullock and her co-stars know. In a box office landscape filled with superhero reboots and tentpole action movies, it's great to have a female-led film about women kicking butt and taking names, so I'm positive that something will strike a chord with viewers.
Honestly, the biggest thing preventing a potential Ocean's 8 sequel is probably these actors' busy schedules. Can you imagine how hard it must have been to get Bullock, Blanchett, Hathaway, Awkwafina, Paulson, Rihanna, Kaling, and Helena Bonham Carter together for a three-month shoot? Now imagine doing that again. These women are all insanely busy, so it would practically take a miracle to get them to clear their schedules for a sequel. But miracles do happen, right?
If we're talking about Ocean's sequels, I have to address the elephant in the room: No, Ocean's 8 is not a sequel to the Ocean's trilogy. Even though the new movie is premiering a decade after Ocean's 13, it's better thought of as a spin-off from the original films. The events of Ocean's 8 take place in the same universe as the events in the first three Ocean's films, but with a whole new cast of characters and an even more elaborate heist.
This time around, Debbie Ocean, Danny's younger sister, is stepping into her brother's criminal shoes. Debbie recruits a crack team of scammers, thieves, and hackers to help her lift a $150 million necklace right off the neck of a celebrity at the Met Gala, one of the most photographed events of the year. This con makes ripping off a casino sound like a cake walk.
If there ends up being an Ocean's 8 sequel, I'm praying that every single one of these amazing actresses can participate. Rihanna, you can put off that new album tour until 2021, right?