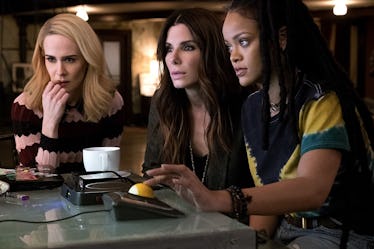 Here's How 'Ocean's 8' Relates To All The Other Movies In The Franchise
Warner Bros. Pictures
Guys, Ocean's 8 comes out on June 8, and I'm officially freaking out. That's so soon. Everything about this movie looks amazing, from the cast to the Met Gala setting to the complicated jewelry heist. I'm a big fan of the original Ocean's Eleven (and the two sequels), so now, I'm curious: Is Ocean's 8 related to Ocean's 11? With a title that similar, the two have to be connected, right? Well, Danny Ocean fans, I have some good news: Sandra Bullock's character Debbie has a very familiar last name and some even more familiar criminal tendencies, so get ready to kick it like its 2001.
If you're familiar with Ocean's Eleven, the set up of Ocean's 8 may sound a little familiar. After being released from prison, Debbie Ocean (Bullock) plans an elaborate jewelry heist at the Met Gala, the biggest night for fashion of the year. Debbie recruits a crack team of women, each of whom has a different skill that will help lift a $150 million necklace off a celebrity (Anne Hathaway). So, who is Debbie Ocean? The criminal mastermind is Danny Ocean's (George Clooney) estranged sister, so she was practically born to rip off the Met Gala.
Unlike Ocean's 12 and 13, Ocean's 8 isn't purely a sequel to the Clooney-led thriller. As Bullock explained, the movie exists in the same universe as the original Ocean's trilogy:
We're not a reboot. We're just a "This is what's happening in 2017." It's not even a passing of the torch. It's a parallel story of another family member that was raised in the same family Danny Ocean was and what happens when Debbie steps out of jail with all of these amazing, powerful women.
So for all intents and purposes, Ocean's 8 can be considered a spin-off of Ocean's Eleven, not a prequel, sequel, or revival. But if we do ever get a prequel, can it please be about Debbie and Danny's childhood? It would be totally amazing to see how these two ended up becoming criminal masterminds — and I'd love to see if they have other, less criminally-inclined siblings.
Debbie's relationship with her brother will form a core part of the film, but it's unlikely that Clooney will reprise his role as Danny Ocean in the new movie. In the original Ocean's 8 teaser, Debbie sits in front of her brother's grave sipping a martini, and judging by the plaque ("Danny Ocean 1961 - 2018") it seems like he's just recently passed away. However, Danny's influence will definitely leave a mark on Debbie, who, purposefully or not, ends up following in her brother's footsteps. Bullock told Entertainment Weekly:
Yes, I am Danny Ocean's sister. I've been incarcerated for about five years and you find out why during the course of the film. I mean, that's sort of a tiny subplot. But that's, you know, but I'm definitely his sister and we definitely come from the same family and we're both very good at what we do in our own special way. So you can only imagine that once I get out, that's when the heist ensues.
While Sarah Paulson, Cate Blanchett, Rihanna, and other A-list stars will take over for Danny's eleven heist planners, it's possible that some of the original cast members will pop up in cameos in Ocean's 8. Carl Reiner, who played con man Saul Bloom, and Matt Damon, the expert pickpocket Linus Caldwell, are confirmed to be returning for the new movie, likely in small roles.
There's no doubt that Ocean's 8 will be a massive hit, so the real question is whether there will be a sequel to the spin-off. Bullock told Entertainment Weekly that she doesn't love sequels, but she did say that an Ocean's 8 sequel is not completely off the table:
I think the mindset was let's just see if we can make this work, and let's see if we can get the greatest actors and we did. Let's see if we can take the original and then make our own version, sort of pay homage to the Ocean series ... If something strikes a chord, an Ocean's 9 would be ideal.
I would watch this cast do anything, whether it's Ocean's 9 or 3 or 2 or 1. OK, maybe not just one.
Ocean's 8 hits theaters on June 8.