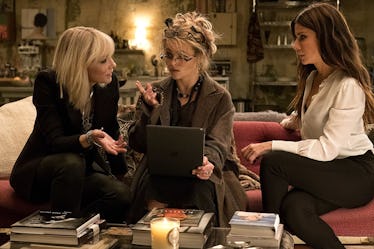 Here's Your Official 'Ocean's' Guide Before You Go See The New Movie
Warner Bros. Pictures
After years of waiting, fans of the iconic Ocean's trilogy are finally being treated to a brand new, all-female spin-off titled Ocean's 8. The new movie is amazing on pretty much every front — the A-list cast, the Met Gala setting, the soundtrack, I could go on and on — but there are a few things you should know before heading to the theater. Like, what's Ocean's 8 about? Who will be playing the heist masterminds? And how exactly is it related to the original Ocean's trilogy? There are plenty of tiny details you should know in order to fully prepare yourself for Ocean's 8, so consider this your official guide to all things Ocean's.
What's Ocean's 8 about?
If you've been desperate for a movie about the infamous Met Gala, you'll be obsessed with Ocean's 8. The movie follows Debbie Ocean (Sandra Bullock) as she plans a $150 million jewelry heist at the Met Gala. Debbie recruits a crack team of masterminds to help complete the job — which involves lifting a priceless necklace off a famous celebrity and socialite (Anne Hathaway) — and like the original Ocean's crew, each has a specific talent that makes her invaluable to the team.
Who is Debbie Ocean?
Does that name sound familiar? Debbie is Danny Ocean's estranged sister, and clearly, criminal behavior runs in the family. It's unclear how close Debbie and Danny are, but even though Ocean's 8 is Debbie's story, you can expect her brother to influence her behavior. Bullock told Entertainment Weekly that the two Ocean siblings share more than just a last name:
Yes, I am Danny Ocean's sister. I've been incarcerated for about five years and you find out why during the course of the film. I mean, that's sort of a tiny subplot. But that's, you know, but I'm definitely his sister and we definitely come from the same family and we're both very good at what we do in our own special way. So you can only imagine that once I get out, that's when the heist ensues.
I'm not sure if the Debbie and Danny's parents did something really wrong or really right, but I love these movies, so I certainly can't complain.
Who else stars in Ocean's 8?
Gone are the days of Brad Pitt and George Clooney. Debbie's right-hand-woman is Lou (Cate Blanchett), a club owner who steps in to help Debbie pull off an iconic con. In addition to Debbie and Lou, the "eight" include:
Nine Ball (Rihanna), a computer genius.
Rose (Helena Bonham Carter), a fashion designer.
Tammy (Sarah Paulson), a stay-at-home mom.
Amita (Mindy Kaling), a jewelry maker.
Constance (Awkwafina), a pickpocket.
Daphne Kluger (Anne Hathaway), a celebrity and the mark.
If this cast doesn't convince you to run, not walk, to the theater, I don't know what will.
How is Ocean's 8 related to Ocean's Eleven and its sequels?
Despite the title, Ocean's 8 is not a prequel to Ocean's Eleven, 12, and 13, and despite premiering 10 years after Ocean's 13, the new film is not a sequel, either. That may seem a little confusing, so let me clear it up for you: Ocean's 8 is best described as a spin-off of the original films. Debbie and her crew of criminals go through with their plan knowing that a decade earlier, Danny Ocean and his group successfully pulled off not one, but three heists. Clearly, Debbie has big shoes to fill, but I have a feeling that she'll be able to pull off the heist with flying colors.
Even though Ocean's 8 is distinct from the Ocean's trilogy, there will be a few characters who reprise their roles from the original films. Matt Damon and Carl Reiner will be returning to Ocean's 8 in their original roles of Linus Caldwell and Saul Bloom, two of Danny's best thieves. You can't have a good spin-off without some crossover, right?
What else should fans expect in Ocean's 8?
Ocean's 8 takes place at the Met Gala, so there will be tons of celeb cameos throughout the movie. What, you thought the producers would film a fake Met Gala and not invite celebs to "attend" the event? Met Gala chair Anna Wintour makes a cameo in the movie (because of course she does), and stars such as Kim Kardashian, Kendall and Kylie Jenner, Olivia Manning, Zayn Malik, and Serena Williams will also appear.
Late night host James Corden will also appear in Ocean's 8 as an insurance investigator who tries to nail the eight for stealing the necklace. It's kind of weird to see Corden in a dramatic role, but he does a great job interrogating Hathaway's character at the beginning of the trailer, so I'm confident he'll nail the performance.
Ocean's 8 hits theaters June 8.