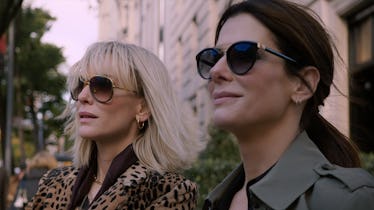 Here's Everything You Should Know About Sandra Bullock's 'Ocean's 8' Character
Warner Bros.
It's been 17 years since Ocean's Eleven was released and became a sequel-spawning box office hit. The remake of the 1960 Rat Pack heist of the same name featured George Clooney as the ringleader of a rag-tag group of casino-robbing criminals. Now that the all-female spinoff is about to hit theaters, you might be wondering how it's connected to the 2001 favorite. Who is Debbie Ocean exactly? Sandra Bullock's character is linked to the film... by blood.
George Clooney played Danny Ocean in Ocean's Eleven, and Bullock's Debbie Ocean happens to be his estranged sister. And grand larceny clearly runs in the family.
"We're not a reboot," Bullock explained to Entertainment Weekly. "We're just a this is what's happening in 2017. It's not even a passing of the torch. It's a parallel story of another family member that was raised in the same family Danny Ocean was and what happens when Debbie steps out of jail with all of these amazing, powerful women."
Debbie has been in prison for a little over five years in Ocean's 8 and she gets out just in time to embark on a new scheme — enlisting a group of female masterminds to help her rob 150 million dollars worth of jewels from the Met Gala.
"Why do you need to do this?" asks Cate Blanchett's Lou asks Debbie in the trailer. "Because I'm good at it."
Bullock likened the new Ocean's to a "Marvel film" because of the surprises being kept under wraps until the movie's release. She did elaborate to Entertainment Weekly about Debbie's relation to Danny, revealing, "I'm definitely his sister and we definitely come from the same family and we're both very good at what we do in our own special way."
Among Debbie's team of experts is a veritable who's who of the entertainment world. Cate Blanchett plays her best buddy and partner-in-major-crime, Lou Miller. Mindy Kaling is a jewelry maker named Amita. Sarah Paulson portrays Tammy, a suburban mom and a former "collegue" of Debbie's. Rihanna's Nine Ball is the gang's resident and very necessary tech wiz. Awkwafina is sneaky pickpocket extraordinaire Constance. Helena Bonham Carter's Rose Weil is a fashion designer. And Anne Hathaway is Daphne Kluger — a celebrity socialite and target of the group's heist.
"I enjoyed the selfishness of her, but what I really enjoyed was getting to figure out where her blind spots were…. She's working so hard to be refined and sophisticated, but she just so clearly isn't that. I feel like Daphne is my shadow self, and I feel like you can either use fame to do good for other people and use it to get nice restaurant reservations for yourself, or it can really take over and become your entire identity," Hathaway said of taking on her character's self-centered persona.
A female-driven Ocean's concept has been in the works for a while now. Writer and director Gary Ross (Pleasantville, Seabiscuit) reportedly thought of the idea over five years ago. But even star Sandra Bullock was skeptical that the project would eventually see the light of day.
Sandra spoke to People about the experience of finally being a part of the impressive female ensemble, saying,
It felt like it was a long time coming. Too long if you ask me — which you did — but I'm just so grateful that it happened. It felt like we had all been kept in solitary confinement from each other. Kind of like an 'actress quarantine' and when we all found ourselves like sardines in the trailer that first day, it was like the dam burst and we all made up for lost time.
Ocean's 8 hits theaters Friday, June 8, 2018.