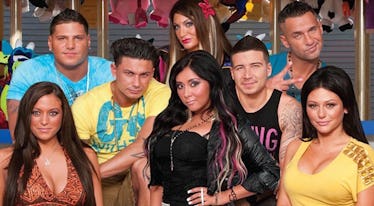 The 'Jersey Shore Family Vacation' Cast Is Convinced Sammi Will Be On Season 2, YEAH BUDDY
MTV
Jersey Shore may be coming back, but it will be missing one key guidette. Although Sam Giancola (aka Sammi Sweetheart aka the sweetest b*tch you'll ever meet aka the girl who cried "Raahhhhnnn!") is not returning for the upcoming reboot series Jersey Shore Family Vacation, the rest of the cast is pretty sure that she is going to come back to the proverbial shore house very soon. When People asked the cast will Sammi be on Jersey Shore Family Vacation Season 2, most of them sounded very confident that their former castmate is going to sign on for the next run of episodes.
When MTV revealed last fall that the network would be reuniting the Jersey Shore cast for a new reality series, fans were quick to notice that Sam Giancola's name was absent from the announcement. A few days later, Nicole "Snooki" Polizzi said that all the drama that went down between Sammi and Ronnie Ortiz-Magro during the series' original run may be why she was shying away from joining the new series. But although Sammi said no to Season 1 of Jersey Shore Family Vacation, most of the cast is sure that she will jump on board for Season 2, which MTV has already picked up ahead of the premiere.
DJ Pauly D said that he would "almost bet on" Sammi joining the reunion series next season, citing the increased media and fan attention that she has been getting for refusing to join the first season:
I can almost bet on that. For someone to say no to that this time and then all the media and everybody, all those comments, she must see them, she must want to do it. I gotta say, she must have to want to do the second one.
Jenni "JWoww" Farley echoes Pauly's sentiments, and added that since she will always be associated with the Jersey Shore franchise, she might as well capitalize on it:
For the simple fact that she will always be a part of us and she'll always be mentioned or brought up, at least capitalize on it. Speak your own truth. Come in, fight us on whatever, or love us, or like, be around us. It's kinda sh** she's not taking the opportunity.
While the rest of the Jersey Shore cast seemed pretty sure that Sammi would return to reality TV, Deena chimed in to say that she doesn't think Sammi is going to come back. Deena shared that she has tried to talk to Sammi about the show, but found that "she's just not into it anymore."
Notably silent during the discussion was Ronnie. Although Sammi has not shared her reasons for saying no to the reunion series, most Jersey Shore fans are guessing that it must have something to do with the complicated roller-coaster relationship that she had with Ronnie on the original series. After all, Sammi did show up for the reunion last summer that Ronnie was not a part of, and she went to Deena's wedding last fall, at which Ronnie was the only former Jersey Shore main cast member that was not a guest.
It seems clear that Sammi is not opposed to Jersey Shore reunions... which is leading fans to assume that she really just does not want to be around Ronnie again. Hmmm, I guess Jersey Shore Family Vacation could try to alternate between Ronnie and Sam each season?
Jersey Shore Family Vacation's debut season will be set in Miami, with each proceeding season moving the cast to a new city. The show is being considered by MTV as a completely new series, and not the seventh season of Jersey Shore. Jersey Shore Family Vacation will premiere on MTV on April 5, 2018.