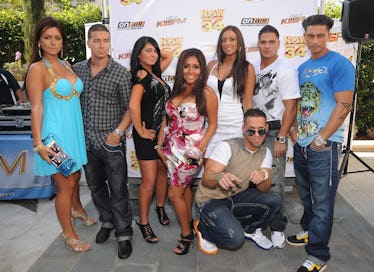 Snooki's Theory About Why Sammi Isn't Returning To 'Jersey Shore' Reunion Makes Total Sense
Jason Merritt/TERM/Getty Images Entertainment/Getty Images
Get ready to fist pump and GTL all over again. Jersey Shore is coming back for an MTV reboot, which mean the early 2000s are back, everybody — Ed Hardy T-shirts and all. In sadder news, it looks like Sammi Sweetheart (aka Samantha Giancola) won't be signing on for the reunion, and we're finally starting to get some hints as to why. Snooki's theory about Sammi not returning to Jersey Shore actually makes a lot of sense — and, at this point, we're all going to have to make peace with it.
It was recently announced that the whole Jersey Shore crew would be returning to MTV for a special family outing in 2018, rightfully called Jersey Shore Family Vacation. Well, everyone except Sammi. There wasn't really an explanation as to why one of the show's major stars was opting out of the reboot. In fact, it was a little confusing because all seemed so well and good between Sammi and her "Jersey" buds. The former reality star was pictured with some of the cast at Deena's wedding in October, and she even "liked" a petition that The Situation posted on Twitter about the reboot.
Well, it turns out that Sammi might have a very good reason for not returning to the show. Namely, she just might not be up for getting into the drama and madness all over again.
During an episode of her podcast It's Happening, Snooki (aka Nicole Polizzi) delved a little deeper into her theories on Sammi stepping away from the show. Buzzfeed News reports that Snooki said,
Everyone's asking why Sammi's not doing it. You have to ask her that — I'm not gonna speak for her. But Sammi is just in such a happy place that I feel like she doesn't want to jump back into that drama if it does happen.
Snooki continued and stated that filming Jersey Shore was "crazy," "very emotional," and "took a toll on you." During the episode, she added,
And being that there was a lot of Ron and Sam drama when we did film, it was just really hard on both of them. So I just think she doesn't want that anymore.
Snooki then went on and publicly assured her friend that things would be a lot different this time around. She also said that the whole cast wants Sammi to come back.
"But at the same time, we're just like, it's gonna be different," Snooki said. "We're all begging her to come back on the show. It's really up to her. Everyone pray that Sammi comes back, because I feel like she might change her mind. So Sam, if you're listening, come to the show. Like, stop being — stop it. Stop it right now before I spank you."
The one snag that might keep Sammi from coming back is the fact that her ex-boyfriend Ronnie will also be there. The two had a rollercoaster relationship (to put it kindly), and it would be pretty fair if she wants to keep the past in the past. Would you want to have a reunion with your ex — for a prolonged amount of time — on camera? That sounds absolutely terrifying.
The reality star seemed to have mixed feelings about the show when she spoke with Complex back in 2011.
"I've maintained a relationship [with Ronnie] since day one, so for me that's something that I was accustomed to," she said. "But it is difficult having a relationship, being on camera. I don't think anyone understands really what goes on."
She added that there are still certain parts of the show that make her cringe, saying,
Of course there's things that I'm like, 'Oh, man I dislike that part,' or, 'Wow, I didn't know that happened,' but I don't regret anything. I learn from everything, and I just grow and move on from each episode.
OK, so maybe there's still a chance she might change her mind? In the meantime, you should probably start to mentally prepare yourself for this reboot because the cab is almost here, and there's just going to be enough hair gel and drama to go around.