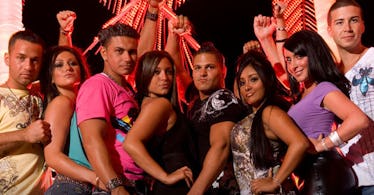 The 'Jersey Shore' Reboot Is Officially On Its Way, But One Cast Member Is Missing
MTV
Get ready to GTL, because Jersey Shore is officially coming back... again. After a mini-reunion earlier this year, the guidos and guidettes who ruled reality television from 2009 to 2012 have announced that they are coming back for a reboot on MTV next year, except one cast member isn't in the picture. MTV revealed the gang is getting back together for Jersey Shore Family Vacation on Monday night, with everyone from the original cast except but Sammi "Sweetheart" Giancola. So why isn't Sammi Sweetheart in the Jersey Shore reunion, and what can we expect from Jersey Shore Family Vacation anyway? Let's get into it.
The big Jersey Shore announcement happened right in the middle of the premiere of Floribama Shore on MTV on Monday night. It was a pretty fitting place to announce Jersey Shore Family Vacation, since Floribama Shore owes a lot of its biology to Jersey Shore in the first place. Anyway, the teaser for the Jersey Shore reunion series was really short and didn't tell us too much; only that the show will be called Jersey Shore Family Vacation and it will premiere sometime in 2018. Nicole "Snooki" Polizzi posted the teaser (as well as her reaction to it) on Twitter, so you can check it out below:
The other pretty major detail that was left out of the trailer is that not everyone from the original Jersey Shore cast is returning for the new show. Everyone is coming back except Sammi Sweetheart. Yep, that means Snooki, JWoww, The Situation, DJ Pauly D, Vinny, Ronnie, and Deena are all returning, but Sammi will be missing out. There's no real explanation as to why Sammi isn't returning, but fans of the show are probably assuming it has something to do with her former flame Ronnie being part of the reunion.
Sammi's time on Jersey Shore was predominantly defined by her relationship with fellow housemate Ronnie — the pair hooked up shortly after the show premiered and kept up their volatile relationship throughout the whole run of the series. Now, Sammi is in a new relationship, which may be why she's steering clear of getting sucked back into another tryst with Ronnie. Although she's clearly still close with the rest of the Jersey Shore cast (they all got invites to her birthday party earlier this year, and she reunited with them for a Burger King ad recently), everything she's done with the rest of the cast has been without Ronnie, who skipped her party and was notably absent from the Burger King reunion. Ronnie was also the only cast member not present at Deena's wedding last month.
Since Ronnie is officially going to be part of Jersey Shore Family Vacation after skipping out on all the reunions this past year, it sure seems like he's at least part of the reason why Sammi is opting out of the show.
So now that all that theorizing is out of the way, we can start guessing what Jersey Shore Family Vacation is actually going to be. The short teaser didn't provide any insight on what format the new show will take, nor did it tell is if it is going to be a one-time special or a full-on series. The title makes it sound similar to the mini-reunion that aired on E! back in August, Reunion Road Trip, which brought together Snooki, JWoww, Sammi, Pauly D, and The Situation as they drove around New Jersey and reminisced and caught up over dinner and drinks. Since Family Vacation is bringing together more of the cast and airing on its home network of MTV, I think we can expect it to be more substantial than that E! special.
Look for Jersey Shore Family Vacation to premiere on MTV in 2018.