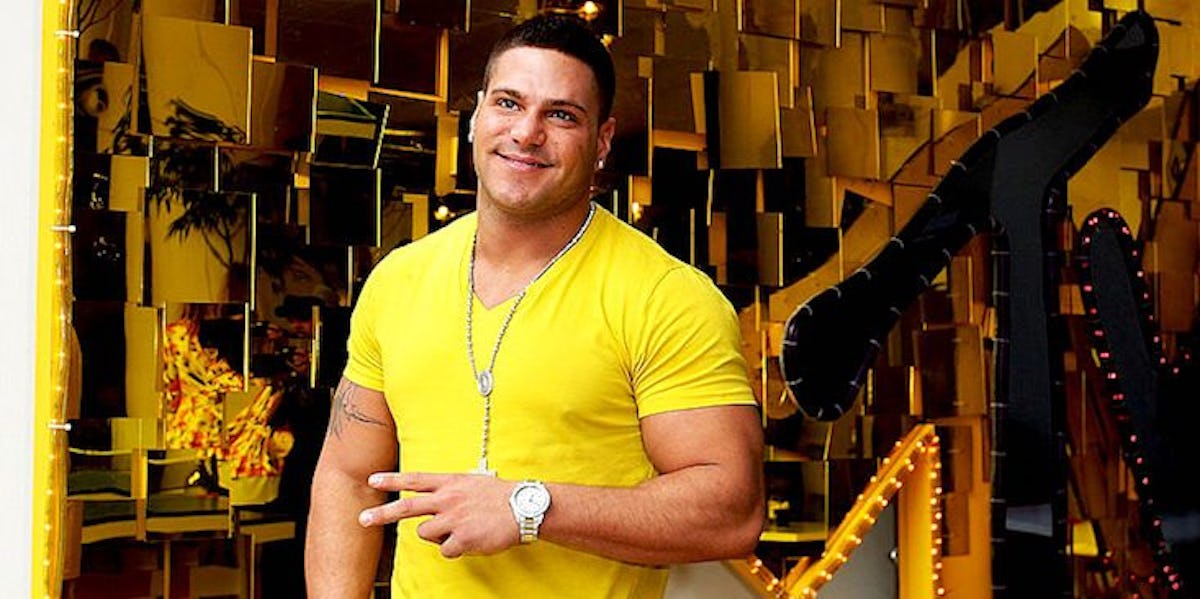 'Jersey Shore' Cast On Why Ronnie Isn't In The Reunion: "We Just All Haven't Spoken To Him"
MTV
While Jersey Shore fans are fist pumping away in anticipation of the upcoming reunion special, there is one upsetting aspect to the whole thing. Original cast member Ronnie Magro-Ortiz is nowhere to be seen in any of the reunion footage.
Apparently, Ronnie's absence is no mistake. Although the rest of the Jersey Shore cast has remained tight since the show concluded in 2013, none of them have stayed in contact with Ronnie. Deena Cortese revealed to Us Weekly nobody has really spoken to Ronnie about the reunion special. She says the whole cast is making plans in a group chat together, but Ronnie isn't part of it.
I honestly don't know if anyone has spoken to him about [the reunion]. Right now we're in a group chat with me, Pauly [DelVecchio], Vinny [Guadagnino], Mike [Sorrentino], Nicole [Polizzi], Jenni [Farley] and Sam [Giancola]. Ronnie's actually not in it right now, in the group chat, but we're all talking about it and we're all trying to figure out ways to make it happen.
Yikes, so I guess that means no more iconic "STAHHP, RAHHHN!" yells from Sammi? Where are we going to get all our relationship drama from!?
As fans have pointed out, Ronnie is on this season of E!'s reality show Famously Single. But although Ronnie's stint on that series is airing right now, the season was actually filmed at the end of 2016 (TBT to the short-lived Ronnie/Malika Haqq relationship), so he should be totally free to join the Jersey Shore reunion if he chooses.
But even though it sounds like Ronnie is on the outs with the rest of the cast, Deena does say she thinks he'd be down for the reunion.
I'm sure he'd be willing to sign on. We just all haven't spoken to him. I think Vinny's the only one that really talks to him.
So far, Ronnie hasn't appeared in any of the videos the cast has been sharing from the reunion, and he also didn't show up in their recent Burger King commercial. But despite his absence, Ronnie has been sharing throwback photos from Jersey Shore on his Instagram and including references to the reunion in his captions.
We'll just have to wait and see if he decides to show up for the reunion special, which is rumored to air sometime next month.