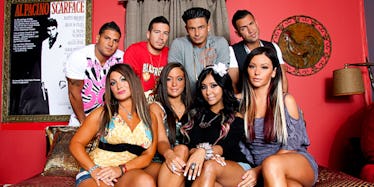 First Video Clips From The 'Jersey Shore' Reunion Are Here And It's Officially T-Shirt Time
MTV
Get your spray tan ready, because that Jersey Shore reunion everyone's been talking about is definitely happening. How do I know? Because now we have video proof, and it's all thanks to The Situation.
On Tuesday night, Mike "The Situation" Sorrentino shared a couple video clips with the reunited Jersey Shore cast. He showed some love to Sammi, JWoww, Snooki, Pauly D, Vinny, and Deena at a restaurant in Jersey.
And of course, the gang couldn't get together without the alcohol flowing. In another clip from the reunion, the former housemates down some shots.
Although the new clips will warm the hearts of Jersey Shore fans everywhere, there is one notable absence — where's Ronnie!?
After The Situation posted the clips, some fans were upset it didn't appear to be a full Jersey Shore reunion since Ronnie is nowhere to be seen. To further worry fans, Ronnie is the only castmate who hasn't been posting about the reunion on his social media at all.
People are worried this could mean Ronnie will sit out of the reunion. And if that happens, I guess Sammi's going to have to find some other storyline?
Earlier this week, news came out that the Jersey Shore cast was filming a reunion special in New Jersey. They brought cameras with them to dinner, and then to play some games on the boardwalk. Thanks to Mike's clips, now we can see a bit of that reunion dinner.
It's also a relief to fans to see the crew downing shots like the good ole days. A couple weeks before filming the reunion, JWoww said any possible Jersey Shore reboot would have to be a lot more low-key than the vodka-soaked original, which stirred up some fear in fans that the show would lose the drunken insanity that made it so beloved.
Thankfully, it looks like everyone's still down to get drunk again. We'll have to wait and see if they reopen the smush room as well.