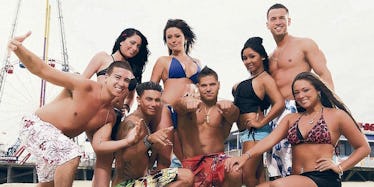 JWoww Says A 'Jersey Shore' Reboot Is In The Talks: "I've Been Texting The Creator"
MTV
Few shows have created as many iconic moments as Jersey Shore.
I still remember exactly where I was when Snooki got punched in that bar (sitting slack-jawed in my freshman dorm room), and can perfectly recreate Sammi's iconic cadence when she found out Ronnie was cheating on her ("That's not just anyone, that's f—king Ronnie!").
Plus it introduced a whole generation to a brand-new vocabulary, consisting of "GTL," "meatballs," "smoosh," "grenade," and "T-shirt time." And now we might get to finally fist pump once more because JWoww says she's talking to Jersey Shore's creator SallyAnn Salsano about bringing the beloved reality show back!
Jenni "JWoww" Farley revealed to E! Online she's been texting Salsano and working out plans to bring Jersey Shore back for a reboot:
I've actually been texting the creator of Jersey Shore and being like, 'How do we make this happen?'
But before you get too excited, it sounds like this reboot won't be the same glorious, drunken mess it was back in 2009. Farley and Nicole "Snooki" Polizzi have totally transformed in the years since the show ended in 2012, now both mothers who have traded bottles of vodka for baby bottles.
JWoww said she has a few demands if the show gets rebooted, which would definitely give the show a less wild feel than it was known for:
But I need to be in bed by 9 p.m. I have to take my family and don't let me get white-girl wasted so I can't find where my family is. So if you can help me out with those, I'd be down.
Still, it seems like a televised reunion with the original cast is totally possible. The housemates are still close with each other, even reuniting as recently as a couple months ago for Sammi's wedding, and there's certainly an interest from the fans to see what everyone's up to now.
We're coming up on the eight-year anniversary of Jersey Shore's premiere this December, so maybe we can expect a reunion special around then? Let's hope!