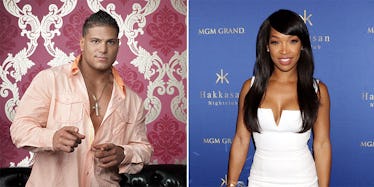 Khloé K's BFF Is Dating 'Jersey Shore' Star Ronnie And It's The Weirdest
REX/Shutterstock
Well, all right then. Cool?
Khloé Kardashian's bestie Malika Haqq is dating Ronnie Magro, the "Jersey Shore" equivalent of the Thing from "Fantastic Four."
Ronnie, or RAHHHHHN, as he was better known in his MTV reality days, met Malika while filming season two of E!'s "Famously Single," airing in 2017.
The new couple told E!,
We had a lot in common from the start and it was an instant friendship. The attraction quickly became a mutual romance… Our support for one another through this challenging experience made us strong in a very short period of time. We had an opportunity to really get to know each other living in such close quarter.
Ah, yes. A reality TV stint is a truly challenging experience, lading somewhere on the gamut between locking your keys in the car and the protest at Standing Rock.
On Monday, Ronnie shared a photo of the couple on Instagram, assuring followers #NahItAintSamSoStopAsking.
Ronnie is referring, of course, to ex Sammi "Sweetheart" Giancola, who starred alongside him on "Jersey Shore" and whose cries of "STAHP IT RAHN" ring in our ears to this very day.
Malika was briefly romantically linked to Khloé's brother, Rob Kardashian, who has since proposed to godsend Blac Chyna and welcomed daughter Dream Kardashian.
Reality fans everywhere are likely psyched out of their minds to see Ronnie and Malika fall for one another on the upcoming season.
Who makes the first move? Where do they go on their first date? Did Ron whisper sweet nothings along the lines of his greatest hits from "Jersey Shore," namely,
I GOT GIRLS COOKIN' ME DINNER. I BEEN WITH YOU FOR A YEAR. HOW MANY TIMES YOU COOKED FOR ME? NONE, YOU FUCKIN' USELESS, SPOILED BITCH!
Romance! So thrilled to see these two living and loving on the small screen again.
Citations: Malika Haqq and Jersey Shore's Ronnie Magro Are Dating! (E! News)