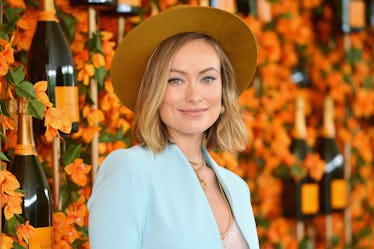 Olivia Wilde Opens Up About If She'd Ever Run For Office Just Like Her Mom — EXCLUSIVE
Charley Gallay/Getty Images Entertainment/Getty Images
Olivia Wilde is a modern day Renaissance woman, and she's absolutely killing it on both the silver screen and in real life. Wilde can effortlessly transition from roles in major productions like House and Tron: Legacy to using her voice on causes that are important to her, like spreading awareness of nontoxic beauty products. Let's face it — she seems to have the charm and savvy of a great politician, which prompts the question: will Olivia Wilde run for office? In an interview with Elite Daily, the Life Itself actress speaks candidly on whether you'll ever see her name on a ballot.
Wilde's mother, Leslie Cockburn, is currently running for Congress in Virginia's 5th District as a Democrat, which seemingly provides the perfect mentorship opportunity for Wilde to learn the ropes. But is it in the cards for her? "Oh my God, no!" she tells Elite Daily in an exclusive interview. Wilde explains that she doesn't think she has thick enough skin to make it through an election, especially running a "cutthroat" grassroots campaign like her mother, Leslie Cockburn. On Nov. 6, Cockburn will face Denver Riggleman for the seat held by Rep. Thomas Garrett, who announced in May he would leave office to seek treatment for alcoholism. Cockburn has expressed her support for programs like the Affordable Care Act (ACA) and her opposition to some of President Donald Trump's policies, like the "zero tolerance" policy which permitted the separation of migrant children from their families at the U.S. southern border, per The Washington Post.
"I don't know if I have that capacity to work as hard as my mom and her team is right now," Wilde explains. "They've knocked on 150,000 doors, they've made a 100,000 phone calls, or more probably by now." Though she says she's not willing to make the sacrifices of running for office, she calls it "noble" work and says that she's willing to do everything to support people who are running for office and standing up for what's right.
Though she says the chances of her running for office are slim to none, Wilde has used her platform to speak her mind on issues that are important to her before. In November 2017, she publicly defended the "clean" DREAM Act — an unaltered version of the Deferred Action for Childhood Arrivals (DACA) program, to protect young undocumented immigrants who arrived in the United States as children from deportation and allow them to work and go to school. She's also spoken in support of reproductive rights and has publicly supported LGBTQ+ rights, including marriage equality.
As for her mother's run for office, Wilde tells Elite Daily that she's been active in Cockburn's campaign and that it's been incredible to watch. "She's completely devoted to [helping the people of Virginia]," Wilde says. "That level of devotion is something that's so incredibly admirable and I just look at her with so much awe, and to be able to campaign for her is a chance to support that and help people understand their value as participants in the political system."
She also gushes about her excitement over the Nov. 6 midterm elections, telling Elite Daily that she thinks more young people are going to show up this year. "We really have to work hard to make sure, [though]." Wilde stresses the importance of voting to Elite Daily, urging people to get out and make sure their friends and family are registered to vote ahead of the election. "This is a process we're all involved in," she declares. "There's no sidelines."
She adds: "Even if you don't have a mom running for Congress, you can identify someone you really believe in and you can do whatever you can to support them, because it's all hands on deck right now."
Though she might have ruled out the decision to step into the political arena herself, perhaps you can find solace in the fact that Wilde continues to speak her mind on some of the most important issues in politics. And besides, that just means you'll likely be seeing more of her on the screen. See, it's a win-win here.