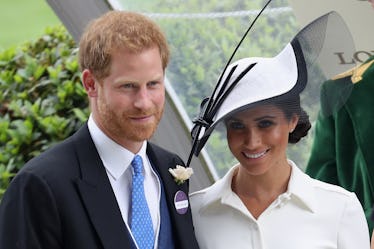 Prince Harry & Meghan Markle Probably Won't Be Prince Louis' Godparents, Here's Why
Chris Jackson/Getty Images Entertainment/Getty Images
The world hasn't heard much about Prince Louis since he was born on April 23. That makes sense, given how he's a literal infant and everything, but the latest Prince Louis update is a precious one. Kensington Palace announced on June 20 that little Louis will be christened on Monday, July 9. But who is slated to become his godparents? Will Meghan Markle and Prince Harry be Prince Louis' godparents? According to People, the odds of the Duke and Duchess of Sussex becoming Louis' godparents are not high, but there's good reason.
Kensington Palace announced in a tweet on June 20 that Prince Louis' christening will take place in July. The announcement said,
The Duke and Duchess of Cambridge are pleased to announce that the christening of Prince Louis will take place on Monday 9th July at The Chapel Royal, St James's Palace, London. Prince Louis will be christened by The Archbishop of Canterbury, the Most Reverend Justin Welby.
According to People, Louis' godparents will be announced the day of the christening. Prince Harry and Meghan Markle will no doubt be in attendance, but there's a big chance neither of them will be Prince Louis' godparents. That's OK, though, seeing as they're his aunt and uncle. Harry isn't even Prince George's or Princess Charlotte's godfather, so let's not assume the newest royal couple is going to book this gig.
Prince George has seven godparents (all either cousins or close friends of William and Kate) and Princess Charlotte has five. Considering that huge number of godparents for his older siblings, little Louis can probably expect to have a handful of godparents as well.
People reports that William and Harry's former nanny, Tiggy Pettifer, is one of the most likely people from the family's circle to be chosen as a godmother. The next most likely is Miguel Head, William's former employee who is close to the couple. Another possibility is William and Harry's stepsister (yes, they have two stepsiblings — a brother and sister), Laura Lopes. Lopes is Duchess Camilla's daughter from her first marriage. Her daughter, Eliza, was a bridesmaid in William and Kate's wedding in 2011.
The main reason Harry and Meghan likely won't be chosen as Prince Louis' godparents, according to People, is really simple: William and Kate want to extend that special title to close friends who don't already have a close family tie like Harry and Meghan.
British bookmakers Ladbrokes' Jessica Bridge told People, "As with George and Charlotte, [William and Kate] chose close and trusted friends and aides, rather than immediate family members, and the odds suggest that will be the same with little Prince Louis."
Prince Louis was born on Monday, April 23. On May 5, Kensington Palace shared the sweetest photos of him taken by his mama.
The photo was posted to Instagram and the caption said,
The Duke and Duchess of Cambridge are very pleased to share two photographs of Princess Charlotte and Prince Louis, taken by The Duchess at Kensington Palace.‬ ‪This image of Prince Louis was taken by The Duchess of Cambridge at Kensington Palace on 26th April.‬ ‪The Duke and Duchess would like to thank members of the public for their kind messages following the birth of Prince Louis, and for Princess Charlotte's third birthday.‬
Prince Louis' birth announcement on April 23 was posted on Twitter. It read, "Her Royal Highness The Duchess of Cambridge was safely delivered of a son at 1101hrs. The baby weighs 8lbs 7oz. The Duke of Cambridge was present for the birth. Her Royal Highness and her child are both doing well." On Friday, April 27, the baby's full name was announced: Prince Louis Arthur Charles. I don't know about you guys, but I can't wait to see little Louis all dolled up for his christening. The cuteness shall slay me.