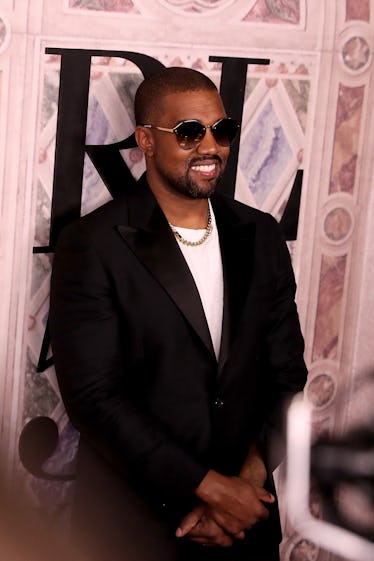 Kanye West Just Tweeted He'll "Host 'SNL' Before The Year Is Out," So Get Ready
Rob Kim/Getty Images Entertainment/Getty Images
Hours after Kanye West (Or "YE," if you've been keeping up with the rapper's recent Twitter escapades) got down with not one, but three different songs during a riveting performance on Saturday Night Live's kick-off, he's already teasing a return to the comedy stage. If you're wondering if Kanye West will host SNL this season, you might be in for more great music and spontaneous pro-Trump rants, according to the rapper himself. A tweet posted on Saturday, Sept. 30 hints that a YE-hosted night of sketches could be happening sooner rather than later, so get ready for another wild ride.
ICYMI, "the being formally known as Kanye West" had the best time at the launch of SNL's 44th Season on Saturday, Sept. 29. After Ariana Grande dropped out of her slated performance, West hung up his Yeezys and donned a water bottle suit, announced that he was now going by "YE," and proceeded to perform some of his recent tracks. His performance was overall a success, despite a pretty bizarre "Make America Great Again" speech unexpectedly delivered by West during the end credits, and YE took to Twitter in the afterglow of his appearance to go on a tweeting spree.
In addition to posting memes and tweets about Steve Jobs and Apple on Sunday, West also appeared to drop some pretty unexpected news: That he might be up for a hosting gig at the weekly comedy series.
"[H]ad so much fun at SNL," he wrote, before name-dropping SNL producer Lorne Michaels. He continued, "Lorne agreed that I would host before the year is out. Need to set a date. Gonna be sooooooooo lit. In the words of Lil Pump ...Esskeetit !" Elite Daily reached out to Lorne Michaels and Kanye West about the possibility of West hosting an SNL show, but didn't hear back by the time of publication.
While West might seem like an unlikely choice, Michaels did express his appreciation for the rapper stepping up to the plate after Grande was unable to perform. "We had Ariana drop out for emotional reasons two days ago," Michaels said during the podcast of "Origins With James Andrew Miller", which was released on Thursday, September 27. "That's our premiere, and then Kanye West stepped up, and he'll be there."
Also on Thursday, SNL released its official lineup of hosts for the next few weeks, which includes Crazy Rich Asians actress and rapper Awkwafina and Late Night host Seth Meyers. There's no telling who will be taking on hosting duties after the next couple of weeks, but it's totally possible that West could be grabbing the mic.
Then again, considering that YE went on a long-winded pro-Donald Trump rant at the end of the show that had to be cut because of time, something tells me that the "Gold Digger" hitmaker might not do the best with pre-decided scripts or time constraints. Plus, he's probably got his hands full with angry fans who were awaiting the promised release of his next album, Yandhi, on Saturday, Sept. 29. Unfortunately, it never dropped, and people aren't happy about it. Elite Daily reached out to Kanye West's representation for comment on when Yandhi will be release, but did not hear back at the time of publication.
All in all, it's been a pretty confusing last 24-hours when it comes to keeping up with West, and I'm sure I'm not the only one who misses the old Kanye.