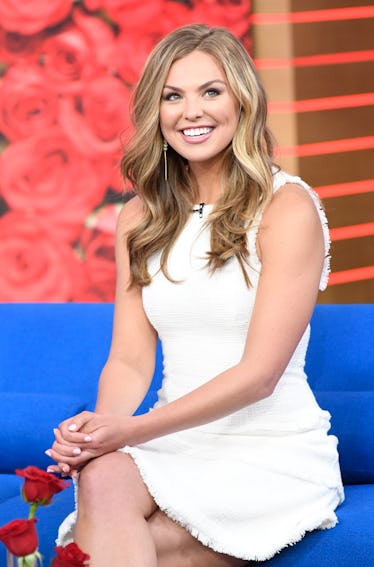 Fans Are So Confused By Hannah B.'s Appearance In The 'Bachelor In Paradise' Promo
Walt Disney Television/Paula Lobo
Hannah B.'s season of The Bachelorette just ended, but she isn't going anywhere any time soon. After Hannah officially broke things off with Jed during her "After the Final Rose" live episode, she's been appearing on various talk shows to discuss all her relationship ups and downs. But there's a good chance she'll return to her Bachelor roots sooner rather than later. Eagle-eyed viewers noticed Hannah B. make an appearance in the Bachelor in Paradise Season 6 teaser trailer after the show's season premiere, which is leading many to wonder: Will Hannah B. be on Bachelor in Paradise?
Bachelor in Paradise is like the fun and flirty cousin of the more buttoned-up series The Bachelor and The Bachelorette, offering a bunch of Bachelor Nation alums the chance to mingle freely and find love in a tropical locale. Hannah's Bachelorette season infamously ended without a happily ever after for the former beauty queen, so if she's still looking for love, Bachelor in Paradise could offer her the opportunity to find a new man.
During "After the Final Rose," Hannah asked her runner-up Tyler C. if he'd be interested in getting a drink with her, and he said yes. Shortly after, Tyler was spotted leaving Hannah's apartment, which gave all of Bachelor Nation hope that Hannah might have found love after all. However, just a day later, Tyler was seen with model Gigi Hadid, which decreases the chances he and Hannah are actually pursuing an exclusive relationship. Hannah told Entertainment Tonight, "I have feelings, but I'm also single and he's single and I wanna keep my options open and he can keep his options open."
Since Bachelor in Paradise offers former contestants the chance to find new love, Hannah could be making an appearance to mend her broken heart after all the ups and downs with Jed, Tyler, and the rest of her season's suitors. However, it's pretty common for the previous Bachelor or Bachelorette to show up in Paradise simply to offer a few words of wisdom to the competitors. Considering Hannah knows many of the Paradise ladies from her stint on Colton's Bachelor season, as well as a handful of dudes from her own season, it's more likely she'll appear on the show in order to provide guidance.
That's where the tricky timelines of the shows come in. Bachelor in Paradise began filming for about one month in June, right after filming ended for The Bachelorette. Jed's ex, Haley Stevens, spoke with PEOPLE about Jed's drama in a story that broke on June 18, and that's what sparked Jed and Hannah's official breakup. So, if Hannah B. filmed her Bachelor in Paradise appearance before all that went down, then she was still at least somewhat happily engaged. But if she filmed it after, she was probably fresh off her breakup. That could mean that she wasn't ready to date anyone else — or she was looking for a rebound.
It's unclear when Hannah B. will appear on Bachelor in Paradise, but one things is sure: Fans are excited to see their latest Bachelorette return to Bachelor Nation.
Bachelor in Paradise continues on Tuesday, August 6, at 8 p.m. ET on ABC.