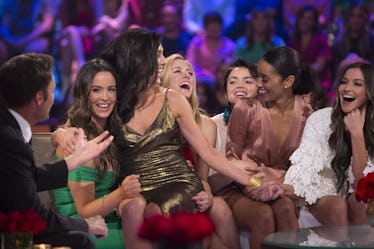 Here's What We Know About Caroline's Chances Of Heading To 'Bachelor In Paradise'
If you're still reeling from the finale of The Bachelor, you're not alone. After watching Arie proposing to Becca K. on Monday night, then breaking up with her, then getting back together with Lauren B. and proposing on Tuesday night's After the Final Rose special, it's been a whirlwind two days for Bachelor Nation. We finally know that Becca is the next Bachelorette, but what about her bestie Caroline? Will Caroline go to Bachelor in Paradise? Things are looking good for this brunette beauty, especially after she shocked fans with her harsh takes during the Women Tell All and After the Final Rose specials.
Caroline didn't make much of an impression on Arie during her short stint on The Bachelor: She was eliminated in Lake Tahoe in Week 4. The 26-year-old realtor got into it with Krystal in the episode, saying that Krystal should get her "lips off [Arie's] ass." When she was sent home, Caroline doubled down on the anti-Krystal sentiment, saying:
I can't believe he chose Krystal over me. I am obviously heartbroken. It's hard to put yourself out there. I didn't put myself out there as much as I could have. But he let me go. It's hard because people like Krystal needed to go, and that sucks.
At the time, Caroline's departure didn't mean much (Week 4 doesn't hold a candle to the craziness of Week 10), but she made a serious comeback during the Feb. 25 Women Tell All, pretty much cementing her place on Bachelor in Paradise. In a heated exchange with Arie, Caroline ominously told the Bachelor "I know what you did," a major hint about the twist we've now seen. "This whole time you've said that you are here because you are trying to find a wife," she practically spit at Arie. "I know what you did, and I don't know how you could do that. And I just really don't understand, but I really hope you found what you're looking for." At the time, it was a huge reveal, and it made Caroline the biggest news story of the Women Tell All. Caroline went home too early for her to be in serious Bachelorette contention, but by showing that she's not afraid to throw down — first with Krystal and then with Arie — she proved to producers that she's exactly the type of contestant who can thrive in Paradise.
Immediately after the Women Tell All, Bachelor Nation took to Twitter to campaign for Caroline's spot in Paradise.
After the special aired, even Arie chimed in, saying that the Women Tell All was nothing more than an audition for Bachelor in Paradise. He may not have singled out Caroline in the post, but considering that she's front and center in the pic and that he referenced her "You know what you did" with the hashtag, it's fair to say that he's throwing shade at Becca's bestie.
Caroline returned to After the Final Rose to drag Arie again, both on Monday and Tuesday night. On Monday, March 5, Caroline called Arie's breakup with Becca "unforgivable," saying, "There's no other way around it. It's hard to watch all of this and to watch him kind of toy with both girls. I think what he did to both of them is just not fair. I care about these girls." And on Tuesday, March 6, Caroline continued to criticize Arie, this time with the help of Bekah M., Kendall, Seinne, and Tia. "It's hurtful to see the way he… he was engaged to Becca for a decent chunk of time," said Caroline. She continued, "That's supposed to mean something. It's just hurtful the way he has zero empathy for… the way he says things, it's like he doesn't take her feelings into account whatsoever." Caroline definitely knows how to hit Arie hard, and she's shown time and time again that she's not afraid to do it.
If (but really when) Caroline makes it to Paradise, she'll probably be known as "the girl who dragged Arie all season long." But is that such a bad thing? A woman who isn't afraid to tell it like it is makes for great reality TV.