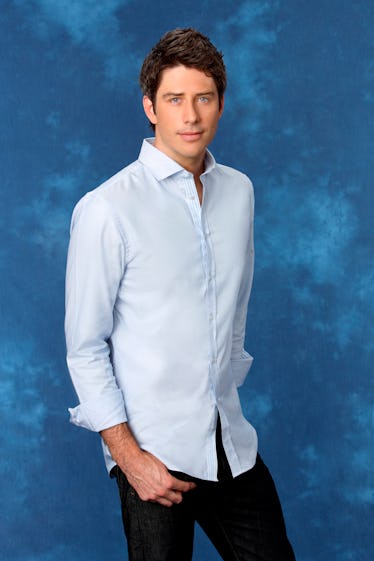 There Are Only 12 Girls Left On 'The Bachelor,' Here's Who Went Home During Week 4
Sigh. Another week has passed us by in Bachelorland, which means we continue to be willing witnesses to make-out sessions featuring Arie "The Kissing Bandit" Luyendyk, Jr. It also means we must bid adieu to more women along this journey to everlasting love. Who goes home on Bachelor week 4? After a week of roughing it and playing tonsil hockey in the Lake Tahoe wilderness, Arie said goodbye to three ladies.
Hot tubs and bugs and drama — oh my! The women were sure put to the test throughout this episode. Let's just say that the producers aren't exactly sparing the contestants on their group dates this season. We long for the days of wine tasting and helicopter riding... We're still reeling from last Monday when everyone had to pretend to be a wrestling pro and fake beat the daylights out of one another. Well, this week the women had to go into survival mode. Usually survival mode on this show means making sure you get enough time with the Bachelor and that you're acting the right amount of vulnerable and mysterious — hard times, right? But for this round they actually had to survive in the woods. Or something. The exercise was a lot to handle for some of them (ahem, Krystal), and honestly the whole situation just really made us miss Season 21 Corinne's enlightening group date commentary.
"It's been interesting on this group date, I kind of feel out of my element," Krystal remarked following a lovely maggot/worm tasting. "I'm just seeing a lot of girls here aggressively seeking his attention. It's looking a little... desperate. This is just not at a level that I play at." Noted. And Krystal's discomfort did not stop there, because she continued to cause tension with the other women throughout the episode. She even stopped Arie before the rose ceremony to get extra time with him at the very last possible minute. Naturally, the women were not impressed.
In addition to his wilderness wonderland date, Arie also went on successful one-on-ones with ladies he's very clearly hitting it off with. First up was Seinne. They danced the night away and got closer than ever before, smooching and opening up about their pasts, as one does on these things. She got a rose.
And of course, the date we've all been waiting for. Arie and Bekah have been getting along extremely well from day one. It's obvious they both get all giddy and googly-eyed whenever they're alone and this dating experience was no different. Or was it? Bekah showed off that she was game for whatevs and could totes deal with a little outdoorsy action, so they went horseback riding and then made out in a hot tub. After a back and forth about her age that basically debated her readiness to settle down, she had the rose in the bag.
So, who did not have the rose ceremony they hoped for? Caroline was one of the women who came up empty handed in the flower department this week. Brittany was also eliminated.
"Don't feel bad," Brittany said to Arie during their final embrace. "I'm sad to go but this is just one chapter in my life so I'm ready to go to the next one. I just want to find someone, like, soon. I'm hopeful," she confessed to the camera.
"I can't believe he chose Krystal over me. I am obviously heartbroken. It's hard to put yourself out there. I didn't put myself out there as much as I could have. But he let me go. It's hard because people like Krystal needed to go, and that sucks," Caroline declared.
Though, they weren't the only ladies who had to leave. Maquel, who received word that her grandfather passed away, had an unfortunately early exit at the top of the show. It's unclear as to whether she'll return.
Alas, we're down to just 12 contestants now. Things are starting to get real. We already know that Arie falls in love with two women throughout the process and now we're really starting to wonder who those finalists could possibly be.
"I can't speak in hypotheticals," Arie recently said to Variety, not revealing whether he actually got engaged at the end of all this. "But for me, I'd like to just go back to regular life. After this, I'm not seeking to do anything here in L.A. If I chose someone, [I want] to be with someone and just to start a life."
The question is: who is that someone? Stay tuned.