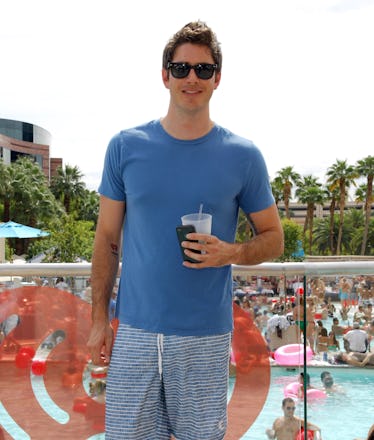 An Official List Of Every Girl Arie Has Kissed On 'The Bachelor' So Far
Bryan Steffy/Getty Images Entertainment/Getty Images
We're only three episodes into The Bachelor, and our favorite Kissing Bandit — aka Arie Luyendyk Jr. — has already had makeout sessions with just about every single remaining contestant, despite the fact that the race car driver said he was planning to be a little more conservative with his lip locks this time around. Best laid plans, right? And yes, I know there's a pun in there somewhere. Anyway, as we prep for Week 4, I thought now would be a good time to take a look at all the girls Arie has kissed on The Bachelor so far.
"That first night I told myself I'm not going to kiss anybody, you know, and then it happened," Luyendyk told E! News.
Well, of course it did, Arie! I mean, I know you've been on this show before, but have you ever really sat down and watched it? Because while there are always lots of unpredictable things that go down during the season premieres — like camel riding and raw hot dog eating and someone showing up dressed as a shark (or a dolphin, depending on who you ask) — there is one thing that remains the same, and that's the fact that there will be kissing.
So break out the Chapstik and let's start at the very beginning. Because like a certain spunky nanny once sang — no, not Bekah M., but I'll get to her in a minute — it's a very good place to start.
Brittany T.
We didn't have to wait long for the first smooch of the season, which went to Brittany T. during the inaugural cocktail party thanks to her crafty use of a couple of props. See, Brittany managed to score some highly-coveted alone time with Arie, then challenged him to a race in some teeny, tiny kiddie cars. The prize? A kiss, duh!
Pure genius, Brit! Bonus points for gifting us all with the visual of Arie awkardly trying to fit into one of these things.
Chelsea
The single mom from Maine scored both the first impression rose and a major tonsil hockey sesh with Arie during Week 1, after offering him a drink and making sure she got lots of alone time with him. "This mama means business," she explained.
Obvi. She also got the second group date rose in Week 3, so apparently mama knows what she's doing.
Seinne
During Episode 2, Arie had the girls compete in a demolition derby-style group date, because themes! The winner was none other than Seinne, a 27-year-old real estate manager who also happens to be a former Miss Teen Long Beach... and a Yale grad.
So yeah, she got the date rose.
Becca K.
Yes, there are two girls named Becca/Bekah this season. But the one I'm talking about right now is the Minnesota native who got swept away by Arie for a Pretty Woman-style date complete with a sexy motorcycle ride, free designer gowns, a diamond necklace that she actually got to keep, and a pair of sparkly Louboutins. Oh, and Rachel Zoe was there.
I know. I would have rather kissed her, too.
Krystal
Krystal is the fitness instructor — and bona fide season villain — who scored the second one-on-one date of the night in Week 2. And like what? because that has never happened before.
And get this: Arie took her on a private jet to go check out his old Scottsdale stomping grounds and meet both his parents and his dog, because apparently we are skipping straight to the hometown dates this season.
P.S. Fans think she has a weird baby voice and a thing for interrupting other people's "time." On top of that, most of the other girls don't really like her. Also, that is a massive understatement.
Lauren B.
If you're wondering which Lauren is Lauren B., here's the easiest way to remember: This Lauren is the one who inadvertently stole Bibiana's romantic daybed set-up for Arie during Week 3, and then promptly engaged in a major makeout sesh on top of it. Oops. So B = Bibiana. And if you can remember that, you're one step ahead of our dear Bachelor, who sent the fiery contestant packing at the end of the episode.
Tia
Tia is Raven's friend and doppelgänger. She freaked out in Week 3 about having to fake-wrestle on the GLOW-style group date, then promptly proceeded to kick major *ss in her spot-on Scarlett O-Hara get-up. Arie must have been mad impressed (or have a thing for spicy Southern Belles) because he later led Tia over to a bunch of hay bales he had the producers set up — true story, I swear — then got her drunk on moonshine and kisses.
Caroline
A quick refresher: Caroline was the first one out of the limo in Week 1. She finally got her smooch from the Bandit in Week 3, after Arie took her on a doggy-style group date — sorry had to go there — where the girls got to play with and train a bunch of four-legged pooches.
Jenna
All you need to know is this: She's the one who straddled him on Bibi's day bed.
Bekah M.
And finally, there's the other Bekah — the one who spells it with a K and an H. She's the spunky nanny with big, brown eyes and short hair, and she's reportedly the youngest contestant to ever compete on the show. Doesn't seem to bother our boy Arie, who is clearly into her and has already kissed her a whole bunch of times.
"I just love your energy," he told her. "You make me smile every time I see you." Super sweet. Or as Bekah put it:
Tune in Monday night to find out who the Bandit's next victim will be!