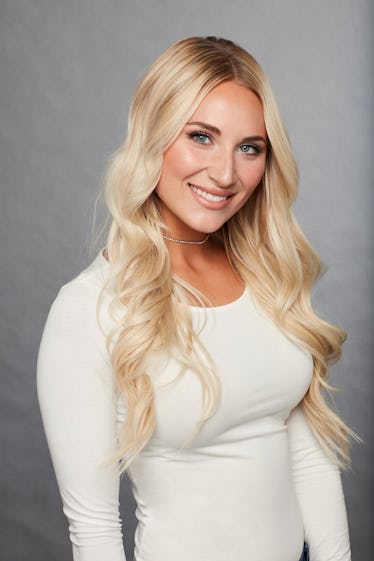 This 'Bachelor' Contestant Just Left The Show Early For A Heartbreaking Reason
ABC/Craig Sjodin
We're used to seeing women leave The Bachelor at a rose ceremony, but unfortunately there are often other external reasons that send a contestant home prematurely. This week we saw as Maquel received a heartbreaking phone call from her mother, finding out that her grandfather had suddenly passed away. So, does Maquel come back on The Bachelor following this exit? Her time was cut short and we're hoping she'll get another chance.
Maquel is a wedding photographer from Utah who hit it off with Arie right off the bat. The outgoing blonde beauty pulled up to the mansion in a race car, making a very memorable entrance on the show. Last week she impressed Arie by channeling her inner badass for the Gorgeous Ladies of the Bachelor wrestling date — competing in the ring as a powerful Lunch Lady to Bekah's Sex Kitten and ultimately winning. Maquel has certainly had some unforgettable moments on the show thus far and she hasn't even had a one-on-one with Arie as of yet. We're hoping the 23-year-old will have the opportunity to go home to be with her family and then return to the show if and when she's ready. Our heart goes out to her, though perhaps her Bachelor story isn't over as of yet?
"I was shocked because it was unexpected, it's not like was sick or anything. You know, I was really close with him," she explained before leaving.
Maquel is certainly not the only contestant who has gone home outside of a rose ceremony. There have been others who have left early in the past for personal reasons. Kenny departed from Rachel Lindsay's season of The Bachelorette because he didn't want to be away from his daughter. Lisa on Jason Mesnick's season left due to her grandmother's illness. You may recall Ali Fedowtowsky tearfully went home from Jake Pavelka's season of The Bachelor due to work commitments, as did Ed in Jillian Harris' Bachelorette season. Lacey Mark left Bachelor in Paradise over the summer when her own grandfather passed away. It is entirely possible that Maquel will make her way back at this stage in the game since it's early. Plus, production is still stateside which makes things a lot easier.
Maquel wasn't the only woman who left Tahoe this week. Both Caroline and Brittany did not receive roses at this episode's tense ceremony. What else happened? Arie got to know the women better through an outdoorsy date in that involved bug-eating and showing off general survivalist skills. Tia was "open and vulnerable" enough in Arie's eyes, so she received a rose. As did Seinne, who had a magical one-on-one date with him that saw them getting closer. And she's not the only lady he cozied up to. Arie and Bekah also found themselves getting hot (tub) and heavy in the woods, smooching and chit-chatting about what else? Her age. To the surprise of nobody, Bekah revealed she was 22 and the world kept turning, nobody spontaneously combusted, and we all kept living our lives. Plus, she still got the rose, because Arie was hesitant about the gap in their ages, but not hesitant enough to end their chemistry-filled relationship. May we remind you that the majority of these ladies are in their mid-twenties? Call me when she turns out to be a robot or a time-traveling spy.
It looks like things are heating up next week, especially when it comes to Arie's time with Chelsea and Tia, when the group heads to Fort Lauderdale. It also appears this Krystal drama isn't going anywhere. We'll be watching and looking out for Maquel's possible return.