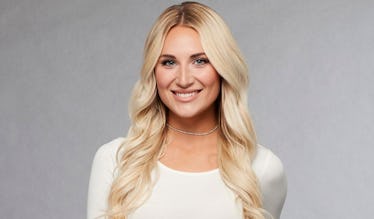 This 'Bachelor' Contestant Is A Wedding Photographer, So She's Clearly Into Love
Just when you think 2017 is about to see its sorry ass out, we're given one last thing to cling onto. A new season of The Bachelor is premiering in the new year, and we were recently introduced to the all-new cast. Among the lucky (?) 29 contestants is a 23-year-old wedding photographer from Utah and she has our attention. So, who is Maquel on The Bachelor? Just your average Midwestern girl looking for extraordinary love.
Maquel is joining her fellow castmates this season to compete for the heart of Arie Luyendyk. After participating on Emily Maynard's season of The Bachelorette in 2012, Luyendyk is back and serious this time, OK? I'm not going to say that Maquel looks exactly like Maynard, but I will imply it strongly on the internet. If Luyendyk has a thing for gorgeous, petite, blonde women, then Maquel might be an early front-runner.
On her ABC bio, Maquel lists her profession as "photographer." If you do a lil' Google search, you'll see she specializes in weddings, boudoir, and BABIES.
Hm, seems a little commitment focused, eh?
With just one quick glance at her Instagram feed, it's clear she also dabbles in modeling.
While her bio proves she is a woman of few words, we still gain a lot of insight from her answers.
For example, we see she loves Halloween because she is into "creepy/scary stuff."
That feels specific, right?
She also says she is a huge adrenaline junkie and her favorite city is Paris, "Obvi."
Despite the fact she's clearly someone who is into wild adventures, travel, and exploring, she says going on The Bachelor is the craziest thing she's ever done.
Oh, and if you're going to date her, you have to feed her. Maquel says she hates when her date "is super touchy right away. Doesn't feed me. #Hangry."
Same, Sister. Same.
While I'm pulling for her because I also like pretty pictures and food, I'm still coming around on Luyendyk.
If I can be the most real with you guys, I'm late to The Bachelor viewing game and only got involved in the series last season when Peter Kraus' jawline came punching into my life. Like everyone, I thought he was a shoo-in for the upcoming season.
Alas, it was not so. For some reason, Luyendyk is back and now we're all having to warm up to his suspicious "nice guy" attitude and casual "cool uncle" vibe. (You guys know exactly what I'm talking about.)
Luyendyk explained in an interview with Entertainment Tonight,
It's easy to get wrapped up in the environment to be in love, going on these amazing dates. But you really have to look past the show into your regular life.
Ah, yes. And, what about your regular life, Arie?
Well, on his ABC bio it explains,
After a tearful exit on Emily's season of The Bachelorette, Arie has stepped away from the spotlight and focused on his new career in real estate, which has brought him tremendous success. Even though he has been gone from Bachelor Nation, America hasn't forgotten Arie's rugged good looks and charm. Now Arie is back and ready to race into America's heart yet again.
I don't know. The word "rugged" feels like a stretch, but fans might remember the tearful exit part. I guess what I'm really trying to say is BRING BACK PETER.
Ugh, life is so hard.
Whatever. Wishing you loads of happiness, success, and one-on-one dates, Maquel! Remember: clear eyes, full hearts, can't lose. Or was that a different show...?
Check out the entire Gen Why series and other videos on Facebook and the Bustle app across Apple TV, Roku, and Amazon Fire TV.