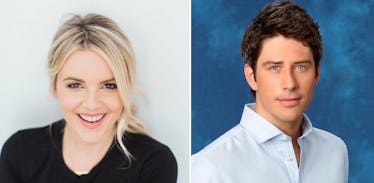 'Bachelorette' Ali Says Arie's Season Will Def Include "Intense Kissing" – EXCLUSIVE
Ali Fedotowsky/ABC
The decision to have Arie Luyendyk Jr. as the newest Bachelor seemed to come out of left field. The news had tons of people completely shook, but he actually seems like a really decent guy who will have a compelling season. Arie definitely has one fan — former Bachelorette Ali Fedotowsky. Elite Daily sat down with the busy mom and got the scoop on what she's up to now, how to salvage your sanity during the holidays, and (of course) this upcoming season of The Bachelor.
Fedotowsky first entered the Bachelor world when she was a contestant on Season 14 of The Bachelor. If you think Nick Viall is bad, you obviously don't remember the cheeseball pilot, Jake Pavelka. Fedotowsky truly dodged a bullet. After winning over the entire Bachelor fan base, she was given her own chance to find love as The Bachelorette for Season 6. She ended up choosing the very hunky Roberto Martinez. My friends and I legit made "Team Roberto" T-shirts for finale night, and it was everything.
The two have since split, and Fedotowsky is happily married with a daughter and new baby on the way. She still has a lot of love for Bachelor Nation, and writes blog posts about each episode on her website.
Needless to say, she had a lot of thoughts on Arie and the upcoming season. Fedotowsky and Arie have stayed connected through social media since their seasons and chat on occasion. When asked her thoughts on Arie as The Bachelor she says,
I'm so psyched for him. I mean, I feel like he's a great choice. I love that ABC did, like, a throwback to him because it makes me feel not quite as old. [laughs] I just think because he's more mature, he knows more of what he wants.
Fedotowsky is honestly the brightest and bubbliest person, ever. I instantly felt equally psyched for Arie after hearing Ali's enthusiasm. She continues,
I hope he finds somebody. I think he seems like such a nice guy. I think the fact that he is, like, removed from the limelight is good. You know, he was on the season and dealt with all the attention, and then he also realizes that all of that attention after the show is fleeting. It goes away. I think that's a good thing because then he'll realize that now, too. It will help him make smart decisions based on what he really wants in life, rather than what the public wants or what the lights of Hollywood are telling him to do.
Fedotowsky did reflect on some of Arie's highlights during Emily Maynard's season. Specifically, Arie living up to his nickname, the "Kissing Bandit."
She gushes,
I remember watching him kiss Emily Maynard on her season and being like, 'Oh my god, that's, like, the hottest kiss I've ever seen!' So, I feel like there's going to be a lot of really, really intense kissing on this season — which is going to be kind of hot but kind of gross, too. So, I feel like I'm going to be kind of looking away at some points, but I wish him the best.
I think we can all agree with Fedotowsky on the "kind of hot, kind of gross" thing. When she mentioned Arie being strong enough to choose the smartest move for him personally versus what the public wants, I asked if she personally felt pressure after her season ended. She said,
Oh my god, I felt so much pressure to stay in my relationship. Even when things weren't going well for quite awhile and I knew that it was best to get out — and I think he did at the time, too. He definitely did. I think there was so much pressure to make it work from... you know, so many people were counting on you.
She continues,
So many people say, 'Oh my god, I love your love story and your love story made me believe in love again.' You kind of start questioning yourself thinking, 'Oh man, I am lucky. Maybe this is my love story and I'm messing it up.' You know, you kind of get in your head about it. Yeah, there's a lot of pressure. Mostly, you don't want to disappoint people who supported you.
Although Fedotowsky has since moved onto greener pastures, there's no denying that her and Roberto shared a lot of chemistry. She even admitted that the biggest surprise in becoming The Bachelorette was how few of the men she romantically connected with. She explains,
I was surprised how much I didn't like most of the guys. [laughs] Not as people — I liked them all as people very much and as friends. I was surprised how right away I knew my top two guys the first night. So, like, going on all the other dates and all the other motions was a real struggle for me. It was hard because I didn't want to hurt anybody's feelings. I knew I didn't want to be with those people, but I can't send everyone home the first night. So, that was the most surprising to me. I was super friendly with all my guy friends. I'm still friendly with some of them to this day — the guys on my show — but there wasn't romance with more than two the entire season, really.
Then, we brainstormed that the show would be a lot more successful if the Bachelor or Bachelorette had a say in the contestants. According to Fedotowsky, "Everyone who comes out of that limo you are seeing for the very first time."
Arie will indeed have his work cut out for him on night one. Fedotowsky went into detail about the process of filming the first night, meeting all the contestants, and the first rose ceremony. It truly sounds exhausting. She dishes,
We start around nightfall, around 7 p.m. ... It's completely dark when the limos arrive. You go until about seven or eight in the morning. It is a full night, 12 hours, all night long. It's exhausting for the Bachelor or Bachelorette because you have to talk to all of these people — they all want your attention all night long. Then you have to go do interviews in the other room with the producers all night long talking about all the guys. It is so exhausting and the hardest night.
If you ever wondered how the Bachelor or Bachelorette remembers all those names — the truth is they kind of don't.
She continues,
I remember that night just saying to a producer, 'Can you just pick the rest?' I was so tired I couldn't even remember who any of them were at that point. So, yeah, the sun is 100 percent coming up because it is eight in the morning when that ends. They always show people on the show passed out, like, 'Oh, they're passed out drunk!' No, they're just sleeping — it's five in the morning. So, it's crazy.
This explains why so many contestants are such hot messes on night one.
Fedotowsky did spill a little tea about the wardrobe on the show. She even divulged that part of her wardrobe as The Bachelorette included a $500 T-shirt. She dishes,
When you're the lead, yes, you get all of your clothes provided, and it's ridiculous. I remember wearing a $500 T-shirt one day and I'm like, 'What the heck is this?' I've never worn a $500 anything, let alone a T-shirt. So it's kind of ridiculous. When you're a contestant, you dress yourself the entire season, except at the end. At the very end, for the final rose ceremony, the show provides either the gowns or suits for the guys.
Besides getting no sleep (#teamasmuchsleepaspossible), being The Bachelorette or Bachelor sounds pretty incredible.
Although Fedotowsky's Bachelorette journey has come to a close, she has definitely found love and happiness with husband, Kevin, and daughter, Molly. She is also expecting a second baby in May 2018 and craving pickles and soft pretzels — which Fedotowsky says is "such a stereotype."
Obviously, life is hectic. Although Fedotowsky is in a "constant state of treading water," she is able to keep her life pretty organized. She has a few easy tips that keep her head above water — planning ahead and staying connected. She swears by Total Wireless. That's right, she relies heavily on her phone to get by in life (don't we all?). She says,
I love that Kevin and I have the shared family plan with Total Wireless … I love a good deal, I'm obsessed with a good deal, and it's only $25 a line per month on the best network for cell phones that you can have. I'm able to get all my online shopping done on my phone. Kevin and I can stay connected. I can schedule everything out for the holidays from my phone. I use FaceTime all the time with little Molly. Molly also loves to use my phone to play all her little games. It's, like, ridiculous how easily she knows how to use the smart phone and she's not even 1 and a half.
Fedotowsky even told me that she hasn't stepped foot in a mall this holiday season, and is able to make time for what really matters — family and friends. Basically, if it's good enough for Molly, I think it's good enough for all of us.
Fedotowsky is obviously doing amazing post-Bachelorette, and doesn't plan on slowing down anytime soon. She spilled the tea on the behind-the-scenes Bachelor world and is definitely cheering on Arie for his upcoming season. Keep killing it, Ali.
Check out the entire Gen Why series and other videos on Facebook and the Bustle app across Apple TV, Roku, and Amazon Fire TV.