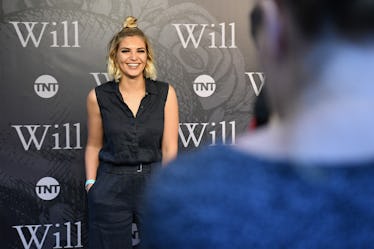 A New Bachelor Contestant Looks Just Like Olivia Caridi & Fans Are Shook
Mike Coppola/Getty Images Entertainment/Getty Images
If you're a fan of The Bachelor, then you know that Season 22 is nearly upon us. On Friday, Dec. 8, the show revealed the 29 women who will be competing for Arie Luyendyk's heart in 2018. Fans already have a lot to say about the contestants, and there's one thing they're all in agreement about: Chelsea fromThe Bachelor looks like Olivia Caridi.
Fans of the show will remember Caridi for the wave of memes she inspired with her, um, mouth. Yes, you read that correctly. Caridi made a splash early in Season 20 when she received the First Impression Rose from bachelor Ben Higgins. Following another win in which she was scientifically proven to be Ben's perfect match, she was super stoked and confident in her standing on the show. It was then that fans began to notice something particular... or, impressive about her. Every time she got excited, she would open her mouth — very wide. We're talking double cheeseburger wide.
Unfortunately for Twitter and everyone else who appreciated this quirk, Caridi bid us farewell as the eighth runner-up of that season. However, there's some good news: This season's Chelsea Roy is a dead ringer for Caridi, at least according to Twitter and Facebook. Honestly, we can totally see the resemblance.
Roy is a 29-year-old Real Estate Executive Assistant from Portland, Maine. According to her Instagram, she has an adorable son named Sammy and an affinity for beach pics — no surprise there. Fans wasted no time pointing out the resemblance between Roy and Caridi, who currently hosts a podcast appropriately titled Mouthing Off.
On The Bachelor's official Facebook page, even more Caridi comparisons were made by eager fans. The top comment on Roy's photo reads, "Haaha, I knowwwww, she looks so much like Olivia!" One user took a more direct approach, commenting, "Olivia that open her mouth wide?" Others are referring to Roy as Olivia's "little sister" or "Olivia Jr.," although Roy is actually a few years older than Caridi.
A number of this season's Bachelor contestants are already standing out as look-alikes and for other reasons. Marikh Mathias, a 27-year-old restaurant owner from Salt Lake City, Utah, is being compared to Kim Kardashian by some fans. Mathias has done some modeling like Kim K, so we see where fans are coming from. Kendall Long, a 26-year-old Creative Director from Los Angeles, California, has a Kardashian connection of her own: she has a twin sister named Kylie. Okay, so Kendall and Kylie Jenner aren't actually twins, but in the words of Kim K herself, can we live?!
Another contestant who's caught the attention of the diehards is Bekah Martinez. Martinez was initially noticed for the absence of an age from her bio. Internet sleuthers took to her Instagram to figure out what was up. A number of posts appear to indicate that Martinez is 22 years old, making her the youngest contestant to ever compete on the show. Whether her age was left out by her own choice or by the producers remains to be seen, but we're curious to see how she gets along on the show.
This season's bachelor is 36-year-old Arie Luyendyk, an auto racing driver who currently resides in Scottsdale, Arizona. Luyendyk was the eighth runner up in the eighth season of The Bachelorette, where he competed for Emily Maynard's heart. Jeff Hom, Luyendyk's friend, went on to win that season —and this time, it's Luyendyk's turn to find love.
The season premiere of The Bachelor is less than a month away. It'll be interesting to see how these sneak peeks at the contestants match up to who they are on the show.