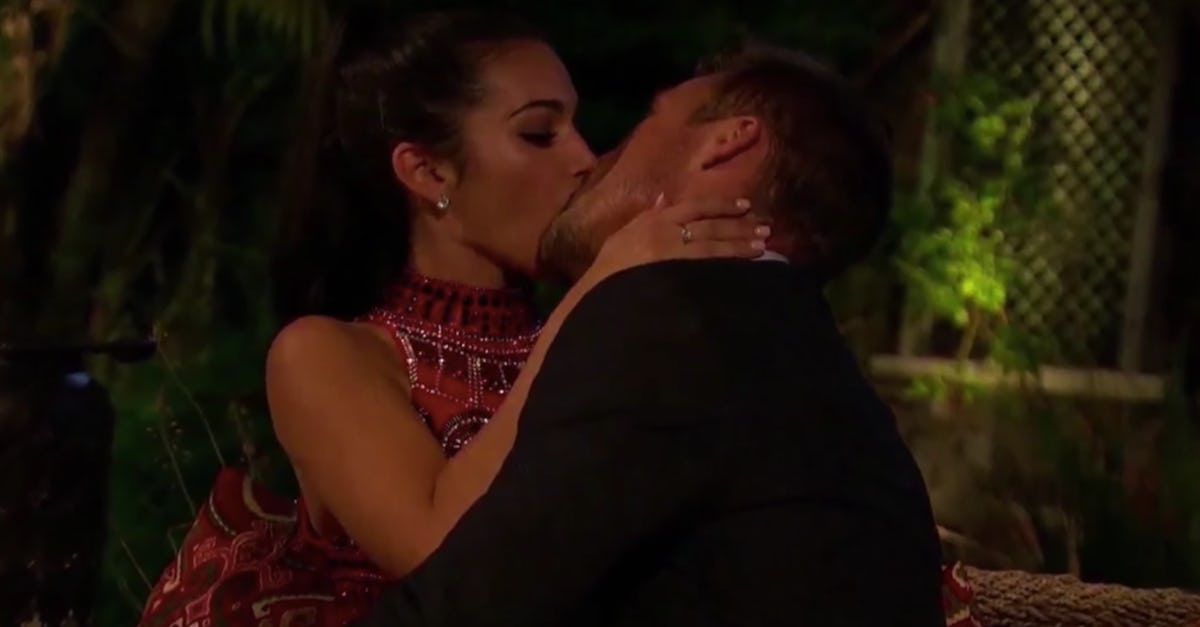 The Worst Kisses In 'Bachelor' History Segment Had Twitter Freaking Out & We Get It
Ready or not, here comes Arie Luyendyk Jr.'s season of The Bachelor. Fans started out with a lukewarm reaction to this Bachelor vet taking over, but the pre-show on Dec. 11 was what everyone needed to get a little fire in their bellies for Arie. The Bachelor: Countdown To Arie showcased a little about the former contestant, what he's been up to, and introduced the ladies who will be vying for his heart. One part of the special that had people talking (and a little nauseated) was the worst kisses in Bachelor history segment. To say the least, it was hard to watch.
All I keep thinking is if the bad kisses were hard for me to watch, what would it be like to watch yourself be a bad kisser on national television? It makes my palms sweat just thinking about it. Obviously, the internet couldn't let this awkward segment go by without blowing it up on Twitter. Understandably, people had a lot to say about the worst kisses in Bachelor history.
Rewatching all of the clips made it so much better (or worse depending on your perspective). Here were the top 10 worst kisses in Bachelor history.
10. Chris Soules and Ashley I.
9. JoJo and Wells Adams
8. Jake and Michelle
7. Emily and Doug
6. Josh and Amanda
5. Rachel and Fred
4. Bachelor Pad 2
3. Carly and Evan — Hilarious
2. Jason and Shannon
1. Ben and Jamie
Some were slobbery, others had too much tongue, and a few should just never be aired on television ever again.
Although Arie might not be in the spotlight now, back when he was on Season 8 of The Bachelorette (aka Emily Maynard's season) he was the "it" contestant.
Fondly referred to as the "kissing bandit," it was shocking when Emily dumped Arie for Jef Holm. Emily and Jef broke up two months after the show aired — I guess the joke was on them. Womp, womp. Arie was so popular, fans thought for sure he was going to be the next Bachelor, but Sean Lowe was chosen instead.
Arie speaks Dutch (which is fun to listen to), races cars, and is currently living as a realtor in Arizona.
When Arie was first announced as The Bachelor in September, people were skeptical about his motives. He explained to Good Morning America,
I'll be 36 in a few weeks, so for me it's time. All my friends around me have kids and are grown up, so for me, I feel like I'm the last one of my friends to take that step. And my little brother got married, and he's 24.
Arie told Michael Strahan that becoming The Bachelor happened so fast, it was almost surreal. He said,
The timing of this really fit for me... I was a little skeptical just because we had been in talks for a few years about doing it, and so I just went in with an open mind and open heart, and yeah, it's just kinda hitting me right now that I'm here.
He even kept the news from his family — they literally found out when the rest of America did. HOW ARE YOU SO SNEAKY, ARIE? He dished,
I kind of kept things under wraps just because I didn't know how this would turn out. It's been such a quick turn of events, and ya know, my family doesn't know. So, now they know... they know along with you guys.
It seems that Arie is personally at the right stage in his life to find love. Honestly, the Arie pre-show got me pumped for the season. All the contestants seem like they have strong personalities, which mixes for amazing drama. Arie's season premieres on Jan. 1, 2018 — you won't want to miss a minute of it.
Check out the entire Gen Why series and other videos on Facebook and the Bustle app across Apple TV, Roku, and Amazon Fire TV.