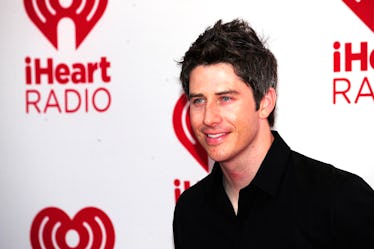 Arie Luyendyk Jr.'s First 'Bachelor' Promo Is Here & Bachelor Nation Is Freaking Out
Steven Lawton/Getty Images Entertainment/Getty Images
In the year 2016-2017, the broadcast networks faced an ugly truth. The cord cutters, the cable channels, the pay channels, YouTube, and Netflix were all winning the war. Across all five channels, from ABC to NBC to CBS to FOX and even The CW, every last returning show had a net loss in viewership from year to year. Every show, that is, save one. That show, my friends, which showed a full 3 percent growth in viewership was The Bachelor. Which is why today's drop of the first The Bachelor promo with our new Bachelor, Arie, is one that all entertainment outlets are putting in your face right now.
"Just who is our new Bachelor Arie?" Well, we're glad someone asked. Arie Luyendyk, Jr. first appeared all the way back on The Bachelorette Season 8, so fans may have long forgotten him, since that was from five years ago. Now he's headlining The Bachelor Season 22.
Back then, Arie was presented as a former race car driver, and the son of "two-time Indianapolis 500 winner Arie Luyendyk." Born in the Netherlands, Luyendyk has spent most of his life here in the USA, where his father 's career was, as well as his own.
Some of his career highlights include the Indy Lights Series, where he never actually won, but came in 2nd, 3rd and 4th a few times. He also was a test-driver in the A1 Grand Prix with fellow driver Jeroen Bleekemolen on the A1 Team for his home country of The Netherlands.
Luyendyk first began to move off the track and on to television in 2009, when he began doing commentating and driver analysis for Versus of the Indy Lights races. He eventually moved to the NBC Sports booth in 2012. That lead to guest appearances in Season 9 of Hell's Kitchen, when the chef-testants had to do a challenge at the Long Beach Grand Prix.
Apparently, the reality TV bug then bit him hard, or perhaps the money was just good enough, because later that same year he appeared as a contestant in The Bachelorette Season 8, aka The One With Emily Maynard from Season 15 of The Bachelor. Luyendyk improbably lasted quite a while on the show, partly because Maynard had a history of dating race car drivers. (Her original fiancé before she competed on either show was Ricky Hendrick.)
Luyendyk went all the way to the final round of the season before being unceremoniously dumped for winner Jef Holm. (Maynard and Holm split all of two months later, so "oh well" to that.)
Luyendyk continued to ride on The Bachelor paycheck as best he could, though, showing up in 2014 on Wipeout: Summer Episode 7: "Bachelors vs. Bachelorettes," one of ABC's millions of competition shows that use ex-contestants to populate the cast.
Now, Luyendyk is back, declaring that "it feels like it's been forever." Yes, well, so has most of 2017 to be honest, so I'm sure five years ago for most people feels like an eternity. Chris Harrison, over to you.
Starring in The Bachelor is a ticket to ride the reality show train even further than before, as some contestants (at least the ones who show any hope of learning dancing skills) then go on to then hoof it up on ABC's other realty contest show, Dancing With the Stars.
Not that Luyendyk is hurting for exposure. As long as The Bachelor remains ABC's only positive audience growth series year-to-year, it's sure to be the leading series in most promotional videos, as well as the one headlining entertainment sites around the internet.