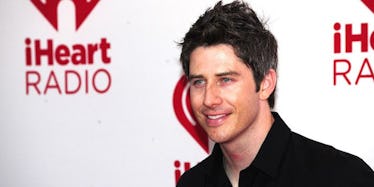 The First Photos Of Arie As 'The Bachelor' Are Here & They'll Get You So Pumped
Steven Lawton/ Getty Images
Here we go again, America! We finally have our first photos of the new Bachelor, Arie Luyendyk Jr., and it's almost like he never left. I mean... almost. Sure, we all put a lot of money on Peter from Rachel Lindsay's season of The Bachelorette and were only praying to the reality TV gods to give us more of his jawline, but it's fine. Arie looks like one dapper, nice smelling man in his photos, and I guess it's time we all get behind helping him find true love.
You guys remember Arie from Emily's season, right? Sure, it was whole five years ago, but who's counting?! At the time, he was runner-up for Em-Em, and speculations were high he'd jump on the following season as our new Prince Charming. Alas, Sean Lowe took his spot, leaving Arie to tend to his own heart for half a decade. Now, he says he's ready for love... again... seriously this time.
Appearing on Good Morning America for his big Bachelor reveal, Luyendyk explained,
I'll be 36 in a few weeks, so for me it's time. All my friends around me have kids and are grown up, so for me, I feel like I'm the last one of my friends to take that step. And my little brother got married, and he's 24.
Arie, listen, age is just a number. Plus, your suspiciously plump cheeks and hairless face make you look way more youthful than you really are, so don't sweat the getting older thing.
Just take a look, America.
Probably could have done without the Slim Shady wordplay caption, but it's a nice picture none the less. I guess.
Fan's on Twitter seem to be just a touch underwhelmed with ABC's decision to go with Luyendyke, stirring up Bachelor social media-drama, as they do.
Some people are in disbelief.
Others won't accept the truth.
And more still say they're out entirely.
OK, OK, OK, guys. I get it. Believe me. But, let's be real. What are you going to do, not watch The Bachelor? Don't be insane, we aren't monsters.
Based on what we know about Luyendyk, there a few things we can anticipate in his upcoming season. For example... uh... let me think... oh, oh, he speaks Dutch! That's kind of exotic, right, guys? Plus there's that whole thing about how his dad is a world-renowned race car driver, and who doesn't like to watch a good race car scene? Eh? Eh?
During his interview with Michael Strahan, Luyendyk explains that becoming the Bachelor happened so fast, it was only just then hitting him as they spoke in front of the cameras and fans.
The timing of this really fit for me... I was a little skeptical just because we had been in talks for a few years about doing it, and so I just went in with an open mind and open heart, and yeah, it's just kinda hitting me right now that I'm here.
He even kept the news from his family until his big Good Morning America reveal. (WHAT A SNEAKY ARIE!)
I kind of kept things under wraps just because I didn't know how this would turn out. It's been such a quick turn of events, and ya know, my family doesn't know. So, now they know... they know along with you guys.
Surprise, Mom and Dad!
Alright, alright, alright. We accept. This is happening.
So, what is it that Luyendyk will be looking for specifically in a woman this upcoming season? Three words: strong, independent, and gentle.
You hear that ladies? Line up.
Check out the entire Gen Why series and other videos on Facebook and the Bustle app across Apple TV, Roku, and Amazon Fire TV.