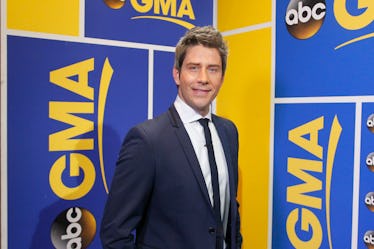 This 'Bachelor' Halloween Promo For Arie's Season Will Make You Scared Of Love
Boo! It's Halloween, guys. And while the holiday doesn't exactly make us think "Bachelor," ABC is set on reminding us that the dating competition exists and it's returning at the beginning of next year, so get prepared. In a Bachelor Nation of Peters and Deans, they're definitely trying to make Arie happen. Yup, Arie Luyendyk Jr. is still going to be the show's (Surprise!) leading man, and this super corny, Halloween-themed clip is here to hammer that concept home. The latest Bachelor promo for Arie's season has arrived, and it's just... Well, see for yourself.
"No tricks here. Our new Bachelor is a TREAT," The Bachelor's official handle tweeted Tuesday morning. Sure, Arie is cute and we're sure America will warm up to him when the show airs this January, but we're not sure we're ready for whatever this is. "This Halloween, there's only one question," the promo narrates. For some reason, because it's "spooky," there are lightening bolts involved and we catch a glimpse of Arie on a soundstage next to a lone pumpkin/bedazzled garden structure. What is that thing? And are those cranberries he's eating? That one question they're referring to, by the way: "Trick... or me?" Arie says to the camera slyly. Yes, really.
We're not really sure how Arie uttered that line with a straight face, but kudos to him for committing to the craft. And honestly, this promo might actually be winning us over. It's so deliciously cheese-tastic that we're excited to see more. OMG, it's working! This must be some sort of reality TV reverse psychology.
Unfortunately, much of Bach Nation is not impressed. The response to this teaser wasn't exactly an enthusiastic one, if Twitter is any indication. Case in point: the #NotMyBachelor hashtag that's been flying around the Internet ever since Arie was officially announced.
C'mon, let's give the guy a chance. Arie might just be exactly what Bachelor fans want and they don't even know it yet. Even though the #TeamPeter vibes are still strong across the nation, we have to accept the reality of The Kissing Bandit's rightful place and wait patiently for The Winter Games to fulfill our alternate dreams.
Even former Bachelor and Arie fan Sean Lowe wants you to know why Luyendyk Jr. will be a great fit for the role. "He's kind of quirky. He knows he's nerdy, which I think is endearing. He definitely doesn't play the cool guy part. He knows who he is and doesn't put on any fronts. He's just a nerdy race car driver," he recently told Us Weekly, talking up his pal's winning personality. We'll just have to wait and see if all those traits translate on screen. If you need an Arie refresher course right now, you can also watch vintage clips of his stint on Emily Maynard's Bachelorette season.
Filming for Season 22 of The Bachelor is well underway and hopefully Arie is enjoying himself and making the most of all that comes with the job, as well as finding love along the way. The TV personality has been pretty silent on social media since the big announcement back in early September, but we get that he has a busy rose-filled schedule likely packed with helicopter dates and tense, tearful goodbyes. Ah, the life of a Bachelor.
We can only wish that the upcoming season is everything Bachelor Nation wants it to be and more. We might even get a Dean cameo at some point, considering he posted this photo with Alex Bordyukov and host Chris Harrison from what appears to be the set last month. We'll take it?
In the meantime we'll be keeping our eyes peeled for any more promos that give us further insight. #JanuArie is coming. Happy Halloween, Bachelor Nation.