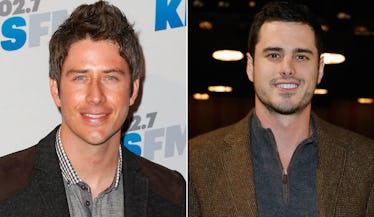 'Bachelor' Arie Admits He Falls For 2 Women, So It's Ben Higgins All Over Again
Imeh Akpanudosen/John Lamparski/ Getty Images Ent
Remember back in 2016 when Ben Higgins shocked Bachelor Nation by saying "I love you" to both Lauren and JoJo, and then tried to excuse his behavior by being all "I didn't know there were rules to this" about it? Yeah, well, get ready for round two, you guys, because apparently it's happened again. Our new Bachelor Arie just admitted he fell for two women during his season — and yes, ladies and gentlemen, he said the L-word to both of them.
Dude, what were you thinking? As much as we hate to give Ben the benefit of the doubt, we kind of had to let his faux pas slide since a double-pronunication of Bachelor-style love had never been attempted before. But you, Arie Luyendyk Jr., should have known better.
Arie's season of The Bachelor is just two weeks away (or in show-speak it will hit the airways on #JanuArie 1) and now there will just be one thing on my mind as I'm watching the very first episode, and that's "Who is the poor girl who ends up getting duped on the bathroom floor like poor JoJo did when Ben assured her that he loved her?"
I think it's safe to say that following Ben's major screw up, Bachelor Nation reacted in one of two ways. Either like this:
Or like this:
I'm pretty sure I was the second. Or maybe I was the first, followed by the second — who can really remember? After all, that was a whole two seasons ago. Plus, we had two seasons of The Bachelorette and a scandalous outing of Bachelor in Paradise to unpack in-between and it's all starting to blur together.
Still waiting for JoJo's mom to get her own spinoff, TBH.
But back to Arie. He apparently sat down with Entertainment Tonight in Los Angeles earlier this month, where he confirmed he said "I love you" to two different women, subesequently spoiling his own freaking show.
"I really had strong feelings for more than one person," he explained. "I'm very happy but it wasn't without hard times."
Man, I do love a guy who can toss out a good Run DMC reference. And I can see how it must really suck to be torn between two lovers so now I actually feel really, really bad for this dude.
EXCEPT THAT I'M LYING AND I DON'T. Because this is not Arie's first rodeo, you guys. Or rose-o. Sorry — I won't even try to make that happen.
But still. Arie knows how this show works, and you'd think a guy who got his heart publicly crushed by Emily Maynard back on Season 8 would be a little more careful about tossing out the L-word. Then again, we probably shouldn't have trusted a grown man who posts quotes like this one on his Instagram in the first place:
Still, the race car driver/realtor did sound genuinely ready for a monogomous relationship when he appeared on ABC's Dec. 11 "Countdown to Arie" special.
"After my experience on The Bachelorette, I feel like I'm in a place where I know myself better," he explained. "Even though it was my biggest heartbreak, it was also proof that I could fall deeply in love, and I want that again. I need my own love story."
Better make that love stories, Arie. And now I have that Taylor Swift song stuck in my head which is all very fitting because, hello, long list of ex-lovers!
And hello, sexy GIF of one of Arie's infamous up-against-a-wall kisses.
Just like that, I'm suddenly reminded why I will happily accept this new Bachelor and his journey to find love — because the boy's got some mad smooching skills, duh!
"I do love kissing," he told ABC News. "I feel like the physical side of a relationship is important, so yeah, there will be some kissing."
There will be some kissing.
So yeah... forget what I said before about rodeos and rose-os, because I'm gonna go ahead and give this guy a pass. Dude can tell Chris Harrison he loves him if the mood strikes, because The Kissing Bandit is back, people — and I, for one, am SO here for it! And if that's not the best right reason you ever heard then I don't know what is.