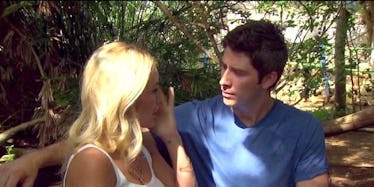 A Refresher On What Happened Between 'Bachelorette' Emily & Our New 'Bachelor' Arie
ABC
At long last, we finally have a new Bachelor, and it's the guy nobody was expecting. ABC announced on Thursday morning that Arie Luyendyk Jr. will be the 2018 Bachelor. The selection was a shock to most of Bachelor Nation, since the show normally picks recent Bachelorette contestants to step up as new Bachelors, but Luyendyk's season aired all the way back in 2012. Given the large span of time between when he was runner-up on Emily Maynard's Season 8 of The Bachelorette and his upcoming season of The Bachelor, you might need a little refresher. Here's your reminder about what happened to Arie on Emily's Bachelorette season.
Arie quickly rose as a frontrunner, as Emily clearly fell for him early on. On their first one-on-one date, Arie and Emily got to meet Dolly Parton and dance to a song she wrote for them, and Emily gave him a rose right then and there. Their instant attraction was evident to the other guys as well, who got upset after Emily made out with Arie in front of everyone at a cocktail party.
But despite all the heat between them, there was also a fair share of drama. When another contestant began criticizing Emily's daughter, Emily was particularly upset with Arie for not defending her, and nearly sent him home. However, Arie did survive and make it to hometown dates, where he introduced Emily to his family. Though she was initially uncomfortable by Arie's family speaking in Dutch to one another, she wound up winning his mother's approval.
Although Emily and Arie's attraction was evident, it became clear by the finale that Emily would definitely be choosing Jef Holm as the winner. It was so clear, that Emily even told Chris Harrison she didn't want to go on her final date with Arie, and opted to just choose Jef as the winner right away. This actually left Arie feeling confused and heartbroken as he went home without even getting his final date with Emily.
But clearly, despite that awkward ending, the love is still strong between Emily Maynard and Arie Luyendyk, Jr. The former Bachelorette gushed about Luyendyk after finding out he would be the new Bachelor. She told Us Weekly:
I can't think of a better person to be The Bachelor than Arie and I've been hoping this day would come since Season 8 ended! He's a gentleman through and through and all the girls on his season are lucky to have him. I'll be wishing him nothing but the best because that's absolutely what he deserves!
Let's just hope Arie has better luck with love now that he's the one handing out the roses.