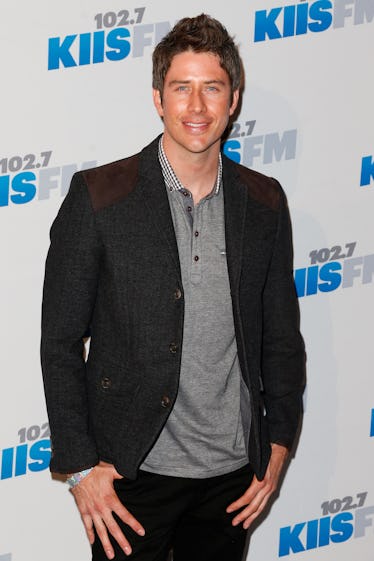 'Bachelor' Arie Revealed The Meaning Of His New Tattoo & It's Amazing
Imeh Akpanudosen/Getty Images Entertainment/Getty Images
The new season of The Bachelor premieres on Jan. 1, 2018 — it's coming up quick. With the premiere date inching closer, fans are learning a lot of new things about the throwback-Bachelor, Arie Luyendyk Jr. He's definitely been an open book and has exposed a lot about himself before the season has even aired. Specifically, the meaning of Bachelor Arie's tattoo — the background is interesting and it will make Broadway fans swoon.
As much as I rolled my eyes after Arie was announced as the newest Bachelor, he actually seems like a great guy who will make for a compelling season. Also, we desperately needed to get out of the current rotation — Nick Viall was the final straw for me. Arie seems equally ready for his season to begin, and has already started reflecting on his experience then and now.
Arie first appeared on Emily Maynard's season of The Bachelorette back in 2012. He was a fan favorite and affectionately referred to as the "kissing bandit." It was shocking when Emily dumped Arie for finalist Jef Holm.
However, that was five years ago and Arie is ready for love. He has definitely matured and is looking to take the next step towards marriage. After the big announcement that Arie was going to be The Bachelor was made on Good Morning America, Arie told Michael Strahan,
I'll be 36 in a few weeks so for me it's time. All my friends around me have kids and are grown up, so for me, I feel like I'm the last one of my friends to take that step. And my little brother got married, and he's 24.
Arie is back and a lot has changed — including his tattoo count. The new Bachelor sat down with E! News and answered a few questions to see if the answers matched up to what he wrote down five years ago for his Bachelorette bio.
When asked how many tattoos he has, Arie answered three — one more than last time.
Arie divulged that he got a tattoo that says, "24601," on his wrist. The ink is inspired by the character Jean Valjean in Les Misérables. 24601 is Valjean's prisoner number in the saga. Arie said,
The main character Jean Valjean — I just connected with that character, and I saw the play in London. So, I got the tattoo.
Obviously, Arie likes to live in the moment. One answer that changed completely (probably for the better) was Arie's motto. Five years ago, Arie said his motto was, "Drive fast and take chances." Honestly, f*ckboy alert. However, his motto now is, "Be open and honest." A little cheesy, but more acceptable.
When Arie heard what he wrote five years ago, he said laughing, "That sounds like me back then for sure." OK, he's obviously grown. Arie has openly said he's in a place where he's ready to find love and settle down.
During ABC's "Countdown to Arie" special on Monday, Dec. 11, the future Bachelor admitted,
After my experience on The Bachelorette, I feel like I'm in a place where I know myself better. Even though it was my biggest heartbreak, it was also proof that I could fall deeply in love, and I want that again. I need my own love story.
Hopefully Arie's journey to find love results in an unforgettable season. Since he has had his time in and out of the spotlight — I think Arie is in a good place to make smart relationship decisions. Since it is The Bachelor, I'm sure we're still in store for lots of drama and twists along the way.
Check out the entire Gen Why series and other videos on Facebook and the Bustle app across Apple TV, Roku, and Amazon Fire TV.