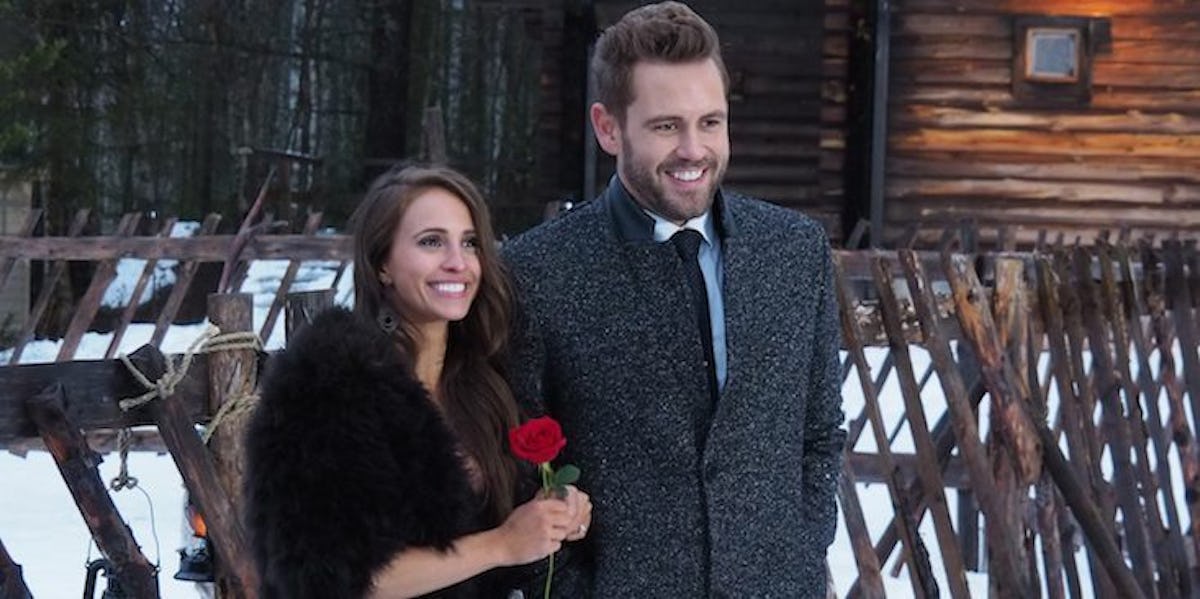 Nick Viall Breaks His Silence After Splitting With Vanessa & It Will Break Your Heart
ABC/Terhi Tuovinen
Nick is finally opening about his recent broken engagement. Season 21's leading man wore his heart on his sleeve in an exclusive interview with Us Weekly, filling fans in on his relationship status and how he's dealing with everything of late. Former Bachelor Nick Viall opens up about his split with Vanessa Grimaldi and admits there's still love for his former fiancee, but it's time to move on.
So, has Nick been drowning his sorrows in ice cream pints and sappy rom-coms? Well, his exact coping mechanisms are unclear, but we know he's leaning on family and even calls Vanessa part of his "support system." "In times that aren't great, you have to kind of spend time with your loved ones," he told the mag. "I'm lucky enough to have friends outside of L.A. I'm heading back to Chicago this weekend, which I think will be good for me. I'm trying to stay positive, being around friends and family. It helps me stay positive."
And it appears that there's no bad blood when it comes to the way things ended. He also revealed there's still room in his heart for some Vanessa love, even if they're just friends now.
I still love her very much. I'm not afraid to say that.
Aww, you let it out, Nicky.
Nick's heartfelt words come shortly after Vanessa posted her emotional reaction to the breakup, proclaiming, "It's okay to feel broken" in an Instagram pic that basically made us want to give the girl a big old hug.
Now we have to wonder what's on the horizon for these two brokenhearted Bach alums. Considering Nick's history with the franchise, it wouldn't be that crazy to think he would want to be The Bachelor. Again.
But he did tell Us Magazine, "I like to try new things, get out of my comfort zone. I know I have a lot of work to do in that arena."
We can only guess that "new things" wouldn't include going back on TV to find love, but who knows?
Time will tell what Nick and Vanessa do next, but it looks like they're taking some time to soothe their post-split hearts. Hey, there's always Paradise next year...