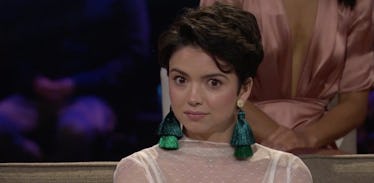 Arie's Exes Dragged Him On 'After The Final Rose' & It Was So Brutal
ABC
We all know by now that Arie is getting a lot of hate for his season of The Bachelor. He dumped Lauren B. and proposed to Becca, then dumped Becca to go back and try to reignite things with Lauren B. If you were glued to your screen during the first 20 minutes of Part 2 of The Bachelor finale, then you already know that Lauren B. jumped into Arie's arms when he knocked on her door. So yeah, it looks like she forgave him. But you know who didn't? Kendall, Seinne, Bekah M., Tia, and Caroline. Arie's exes dragged him on After The Final Rose, and it was totally brutal in the best possible way.
Of course, the roasting started before the show, when Bekah M. called out Arie on Instagram for DMing her. She posted screenshots shortly after the three-hour finale on March 5 of two DMs she got from Arie. One was a photo of her Bachelor headshot on the side of a milk carton. (Remember when she was on that missing persons list?) "This may just win the internet today," he wrote. "Such a shame they didn't use your license photo." Um, OK. And the second photo was a throwback of Arie and two women shown from the neck down. "Just realized you were born the same year as my first 2-on-1," he wrote. Again, OK, Arie.
I love that Bekah called him out on this. And check out her awesome caption: "Dm'ing your ex on twitter is a great look too, no? #teampetty #teambecca."
Well done, girl!
On After The Final Rose, Bekah lit into Arie even more. "There are so many words I want to say that would have to be bleeped out on live TV," she told host Chris Harrison. "It's just unbelievable. I think he is just not a genuine person. He just wants to say whatever he needs to say in front of the person that's in front of him to get what he wants. I think he's an incredibly manipulative person. It's ridiculous."
Preach!
And Bekah wasn't the only one who had some choice words about Arie. "Once I found out what happened, obviously I was disappointed, but I could kind of get over it," added Seinne. "But seeing last night's episode, and how he treated Becca, and seeing how he just threw their relationship as if it didn't exist, it didn't mean anything to him, it's just…"
"It's so cold," one of the other girls chimed in, finishing the sentence.
"It's hurtful to see the way he… he was engaged to Becca for a decent chunk of time," Caroline explained. "That's supposed to mean something. It's just hurtful the way he has zero empathy for… the way he says things, it's like he doesn't take her feelings into account whatsoever."
"If he could so easily disregard the relationship with Becca, then he probably shouldn't have gotten down on one knee," Bekah M added. "I hope that Lauren gets out of that as soon as possible."
Me freaking too. Anyway, it looks like all's well that ends well, because we finally got the announcement about who the next Bachelorette is going to be and it's.... Becca! OMG, you guys, I am SO excited! And so, apparently, is Bekah M:
Such a great reaction — and one that's totally merited. Becca was so strong when Arie broke up with her on national television, and she totally held her own on After The Final Rose. I really, really, hope this independent, classy woman finally finds the happy ending she deserves.
Bottom line: You dodged a major bullet, girl. Can't wait to see you crush it as The Bachelorette!