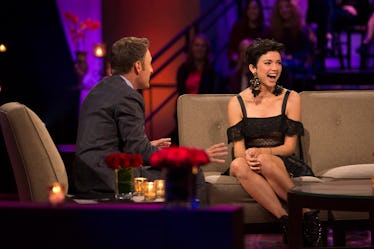 This New Detail About Bekah M.'s Missing Person Story Is Actually Terrifying
ABC/Paul Hebert
Get this, Bachelor Nation. There's more to that whole "Bekah is missing" saga. The fan-fave Bachelor contestant famously ended up on a Humboldt County's missing person's list earlier this month, and now she's opening up even more about the events that led to the incident. While she previously admitted she went to up to the mountains without phone service — which caused her mom to worry about her whereabouts — she went into detail on The Ringer's Bachelor Party Podcast on what exactly went down. Bekah M's missing person story is crazier than we ever imagined.
The media went into a frenzy when it was reported that Bekah Martinez of Season 22 of The Bachelor had ended up on a local missing person's list in California. Of course, this made no sense to any viewer of the ABC reality show considering she was ON TV EVERY WEEK and definitely not lost somewhere. The now-23-year-old was obviously not in peril, posting on social media and living her seemingly chill life post-elimination from Arie's season. Bekah clarified the debacle on numerous outlets, such as Jimmy Kimmel Live!, but now she's going into further depth on what we lovingly call The Curious Case of a Bach-Testant, Vanished (But Not Really).
Bekah revealed to podcast host Juliet Litman, "I really simplified the story because it's actually the most insane... like it doesn't sound real." She added that the mishap was in no way created for publicity because "if this was a publicity stunt somebody needs to be paid a lot of money because this is genius."
Bekah went on to affirm that she did in fact go up to the mountains to a "weed farm" to decompress not long after she had left the show. She was joined by a friend who she "didn't know very well" and she did not have access to cell phone service, thus having to rely on her friend's cellphone to get in touch with her mom. Here's the twist: Said friend ended up getting "kicked off" the farm and Bekah didn't go with her. This apparently did not go over too well. "And then she got really mad that I didn't want to leave with her ... So when she left, I tried to text my mom off of somebody else's phone that had service, but I guess the text didn't go through," Bekah went on.
At that point, Bekah's friend was the one in communication with her family. "So my mom texts her, like, 'Oh, how's Bekah doing?' And she makes up this lie and says, like, 'The owners of the farm are meth heads who threatened me with knives and I had to leave Bekah behind," she clarified. "My mom thought that I was getting held hostage by meth heads with knives."
Um, no wonder her mother was legit terrified for her daughter's life. That sounds intense. Bekah continued to say that although they left a voicemail for the police department to tell them she was OK, it wasn't until February (when she and the rest of the world found out she on the missing person's list ), that she was able to confirm and ultimately get removed from the roster. Got it.
The delightful and witty Bekah also got the chance to dive into a plethora of other Bachelor-centric topics on The Ringer podcast — the entire thing is a highly-entertaining listen, by the way — including whether she's considering a trip to Paradise come summer. "According to Chris Harrison, I guess. Dude, I had not discussed that with anybody. I was like, 'Um, Chris, I have not signed anything, negotiations have not been made...,'" she said, when asked if she'll be on Bachelor in Paradise. "I think I would love Paradise ... I love the sun and it's just the perfect excuse to get a great tan."
Hope to see you in Mexico, Bekah! We're glad you're safe, sound, and sharing your story.