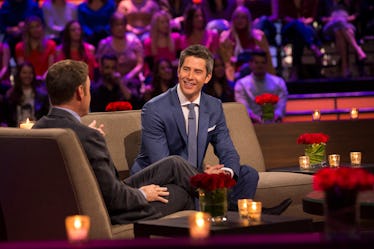 Arie's 'Bachelor' Girls Hint At A Major Twist During 'Women Tell All' & We Have Questions
There are still two more episodes left for Arie's season of The Bachelor. While the conclusion of the season looks juicy and full of heartbreak, fans can't help but wonder if Arie actually found love. Who is Arie with after The Bachelor? There are a few clues given at Women Tell All, and they're so shocking.
Arie arrived halfway through the Women Tell All on Feb. 25 ready to answer some questions and clear the air with a few contestants. However, there was one bizarre comment made by Caroline that had Bachelor nation scratching our heads. She took a moment to menacingly tell Arie "I know what you did." It was so intense she started tearing up. Obviously, we were all thinking WHAT THE HECK DID ARIE DO?
No more details were given after that, but the energy was very awkward. It's been speculated that Arie picks a winner and changes his mind. At this point, it's purely fan speculation and there's no evidence supporting it, BUT THEN WHAT DID CAROLINE MEAN? We'll all find out within a couple weeks, and I'm sure everything will make sense. Everyone loves a little suspense.
People have been talking about the finale of The Bachelor since before the season even aired. The ending is promised to be controversial — Arie reportedly is deeply in love with two of the finalists. Considering we've seen him in the previews profess his love to all THREE of the final women, the first revelation is very anti-climactic. Kendall, Lauren B., and Becca are three lucky ladies. He told People back in December,
I fell in love with two women, and I didn't know I was capable of that. I've never been in that situation, and it was really hard. And they were two very different women, and that's what made it even harder. I didn't know I was really capable of having strong feelings and being in love with more than one person, but that happened. The end was really difficult for me. And I think that it's because it's such a huge decision, and it's my life. But I'm happy, and I wouldn't have changed anything.
So, this leads to a few questions — who are the two women Arie is in love with? Does he end up engaged to either of them? We are so close to the end, and yet still so far away. All three of the finalists are loved by fans, so Arie really can't lose.
Becca has been favorited to win since Week 1. She's down to earth, sweet, and shares a strong connection with Arie. Even he gushed about her during a blog post for People. Arie wrote,
From the moment I met Becca K., I knew she was really sincere about being on this journey. Just because I was now Bachelor doesn't mean I didn't have insecurities too, and that first night, she made me feel so comfortable. On a night where everyone's nerves, especially mine, were out of control, she stood out as someone I could be myself around. To me, that's so important in a relationship. It didn't hurt that she is also stunningly beautiful.
V sweet, but there's still two more women to go. While Kendall seems like the underdog of the season, she's also hard not to love. She's intelligent, kind, and has had some great monologues about love this season.
That leaves Lauren B. — the formerly engaged blonde bombshell. She and Arie share a really strong connection that hasn't translated well on screen. Most of their dates have been big snoozers, but Arie seems very invested in her. In Arie's Feb. 14 blog on People about the season he confessed,
I couldn't logically explain any of my feelings. I didn't know why I felt so strongly, I just did. And I know excusing myself during dinner looks crazy. It felt crazy at the time, but when Lauren told me she was falling in love with me, I was overwhelmed. In that moment, I knew I felt the same way but needed to take a moment before I could properly express myself. I hadn't felt like this about someone since Emily [Maynard].
What does this all mean for Arie and finale? Fans can speculate all they want, but we won't know the truth until it airs. Caroline calling out Arie during Women Tell All was epic, and I can't wait until all the pieces are put together.
Check out the entire Gen Why series and other videos on Facebook and the Bustle app across Apple TV, Roku, and Amazon Fire TV.